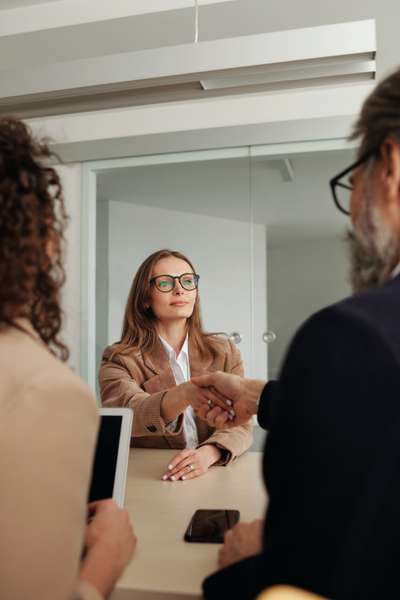 Get to know the company
It's important that you do your research before submitting your initial application, but it's equally important that your research is fresh in your mind when you go for your interview. It shows you're interested in the company and the role, and that you've thought about whether it is the right fit for you.
Looking into the company's values, recent projects and latest news is a great place to start.
"In order to demonstrate that you are not only interested in the job on offer but also in the department and the organisation, you need to carry out some research about all of them." – Sellafield
Everything you might need
Whether your interview is in person or on video, there are certain things you need to do before you walk through the door or press play.
Do you need a pen and paper, or a calculator? If your interview is virtual, is the lighting correct, and do you have a glass of water? Being prepared and well-equipped will make you perform better and feel more comfortable throughout the interview.
"Make sure you are in a suitable environment, have a pen and paper to hand, glass of water, the correct lighting…" – CGG on video interviews
Show your enthusiasm
Employers want to hire people who really want to work for them. This kind of enthusiasm usually makes an excellent employee, so they will be on the lookout for people who have a genuine interest in the company and the role.
Tell the recruiter exactly why you want to work for them, and what it is about the
opportunity that excites you.
"The most important thing is enthusiasm…show off how much you know about the job and how much you want it" – Arup
Transferable skills
Ask yourself, what are the role requirements? Once you have established this, prepare some examples of past experiences in which you have demonstrated the skills and competencies needed for the job.
This can include anything you have done or been involved in, in or outside of university – as long as you can make it relevant to the role you are applying for.
"Make sure you've got a few scenarios in your mind where you've demonstrated certain skills and responsibilities" – Tesco
Make them remember you
You'll want to stand out for all the right reasons. A great way to do this is to talk about what you're passionate about – whatever it is, but especially if it's related the role. This will give the employer a better idea of who you are and what drives you.
It's also a good idea to bring something you've done with you to the interview, as this will leave an impression and make you a memorable candidate.
"If you've got some previous project work, that's always quite useful to bring into interviews…it shows you have initiative and gives you something to talk about that you're familiar with" – Arup