Planes. Hospitals. Factories. Data centres. Vehicles. The electrical grid. Every day, all around the world, people depend on technology, transportation, energy and infrastructure to live, work and thrive. And the companies who provide these products and services depend on the power management sector to help solve some of the toughest electrical, hydraulic and mechanical power management challenges on the planet.
Eaton at a glance
Key facts:
Power management company made up of over 99,000 employees
Our energy-efficient products and services help our customers effectively manage power more reliably, efficiently, safely and sustainably
$21.6bn 2018 sales (USD)
Operates in more than 175 countries
Named on Thomson Reuters Top 100 Innovators List for second consecutive year
Discipline groups recruited...
Aerospace
Chemical/Process
Civil/Building
Computing/Technology
Electronic & Electrical
Materials & Minerals
Mechanical/Manufacturing
Sciences/Maths
Opportunities & Benefits: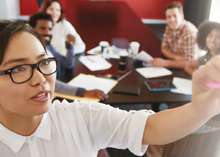 At Eaton, we truly value new ideas, and our culture fosters learning and teaching. In this environment, our employees can reach their full potential and help us reach ours. Whether you're looking for an internship or a place on our leadership development programme, you'll gain valuable hands-on work experience with our global organisation and we'll provide networking and coaching opportunities to allow you to grow. You'll be able to make an impact and help solve exciting, real-world challenges while continuing to develop your leadership skills to the next level.
We strive to provide a benefits package that is industry-competitive and focused on employee well-being. This includes recognition programmes for a wide range of achievements, and employee wellness programmes and resources. As Eaton, we strive every day to be a role model in Inclusion & Diversity, and pride ourselves on being an organisation where everyone is welcome and can be themselves.