The Advanced Manufacturing industry introduces innovative techniques and technologies to the market, in order to help organisations improve their products and processes and remain competitive in today's fast-moving world.
The AMRC at a glance
Key facts:
Network of world-leading research and innovation centres working with advanced manufacturing companies around the globe
Specialists in research into advanced machining, manufacturing and materials
100-plus industrial partners
Employs over 500 highly-qualified researchers and engineers
Founded in 2001
Part of the AMRC Group, a cluster of world-class centres for industry-focused research and development of technologies used in high-value manufacturing sectors
Discipline groups recruited...
Aerospace
Chemical/Process
Civil/Building
Computing/Technology
Electronic & Electrical
Materials & Minerals
Mechanical/Manufacturing
Sciences/Maths
Opportunities & Benefits: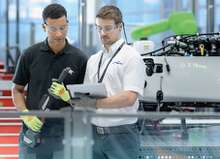 The University of Sheffield Advanced Manufacturing Research Centre (AMRC) with Boeing is always on the lookout for talented individuals to join us on an internship or graduate programme. Working with multiple customers across the varied capabilities of AMRC research groups will give you the best possible start in one of the world's most exciting industries, and provide an excellent foundation for a future career with the AMRC.
The AMRC provides a comprehensive benefits package including 27 days' annual leave plus three closure days and eight bank holidays, with the option to purchase additional leave. You'll also be able to take advantage of flexible working, discounts on shopping and cinema tickets, health and well-being initiatives, our charitable giving scheme and health cover plan.