The Power industry designs and manufactures high-speed, high-horsepower engines and power generation equipment for consumer and industrial use. With smarter, cleaner technology always in development, the industry constantly strives to improve efficiency and decrease environmental impact.
Cummins at a glance
Key facts:
The world's largest independent designer and manufacturer of diesel engines with 60,000+ employees and turnover in excess of $23 billion
Key markets are off-highway vehicles, industrial equipment and power generation
Also provides turbochargers for the automotive sector, filtration and acoustic systems, natural-gas engines, and engines with electronic systems
Working towards providing fully electric and hybrid powertrain solutions along with technology-leading components and subsystems to serve all our markets as they adopt electrification
Discipline groups recruited...
Aerospace
Chemical/Process
Civil/Building
Computing/Technology
Electronic & Electrical
Materials & Minerals
Mechanical/Manufacturing
Sciences/Maths
Opportunities & Benefits: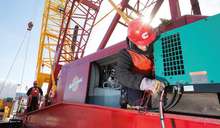 We are at the forefront of modern engine design and face increasing pressure from competitors and environmental legislation. Combine these factors with an ever-demanding customer base and you have a high-energy, dynamic environment in which to work. You will constantly be facing new challenges, given new opportunities, be involved in Six Sigma projects and learn new skills. Cummins provides great opportunities for really talented people who are prepared to face them head on.
We offer a whole host of benefits including generous training grants for post-graduate qualifications, support in achieving Chartered or professional status, a very competitive starting salary and six monthly reviews which can result in bonus payments. We also offer free parking, subsidised meals, company pension and a buddy/mentor scheme.