Electrical Engineers in the transport sector are responsible for keeping cities moving above and below the surface. They develop and maintain everything from high-voltage, heavy-current power supplies to crucial signalling and control systems for the railway.
Transport for London at a glance
Key facts:
Responsible for looking after the intricate planning and everyday operation of the Capital's public transport systems
Delivers major new infrastructure and improvements to the network, and plans for London's growth
Our programme of transport capital investment is one of the world's largest
Every day more than 31 million separate journey segments are made across our network
The work we do has a direct impact on the lives of millions of people - every single day
Discipline groups recruited...
Aerospace
Chemical/Process
Civil/Building
Computing/Technology
Electronic & Electrical
Materials & Minerals
Mechanical/Manufacturing
Sciences/Maths
Opportunities & Benefits: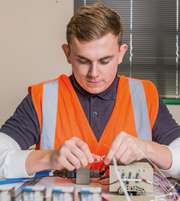 Our Engineers focus on the assets that form the foundation of our transport system. London never stops and the engineering challenge which we face in modernising and upgrading our systems is enormous. Your work will span multiple transport modes, delivering large-scale projects and enabling reliable operation of one of the world's most iconic transport networks.
We can help you grow your career whilst still having a life away from work. In 2018, we were recognised as an organisation that offers the best work-life balance to employees. Your benefits include a competitive starting salary of £27,000 (or, for placement opportunities, a bursary in place of a salary to cover London living expenses), 29 days' annual leave, free travel on our networks, pension scheme, a range of staff retail and leisure discounts and extensive volunteering opportunities.