Civil Engineers in the utilities sector need to make the connection between Victorian infrastructure and the networks of the future. This involves investing in new systems and programmes of work, and upgrading sites and assets. As an Engineer, you'll be the driving force behind these initiatives.
Severn Trent at a glance
Key facts:
One of the largest regulated water companies in England
A FTSE 100 company
We invest around £1.3 million a day in our services
Our sewage network covers 55,000 km
Wind turbines at our sites provide the electricity equivalent of supplying 1,500 homes annually
Over the next century, our business will face a series of complex and unprecedented challenges, from deregulation to a shifting climate
Discipline groups recruited...
Aerospace
Chemical/Process
Civil/Building
Computing/Technology
Electronic & Electrical
Materials & Minerals
Mechanical/Manufacturing
Sciences/Maths
Opportunities & Benefits: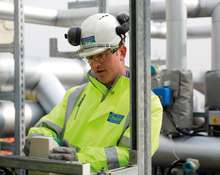 At Severn Trent, you'll join the next generation of Engineers, Financial Experts, Digital Innovators and Business Leaders who are helping us to meet the challenges of the 21st century. We're doing that in incredible ways, from embracing mobile technology to running our own renewable energy businesses. We want to become the most trusted water company by 2020: you can turn that vision into a reality.
Comprehensive training, all-round business experience, and high-profile projects - these are just some of the reasons why Graduates choose Severn Trent. Our benefits package is just as wide-ranging and includes 28 days' holiday plus bank holidays, an employee performance reward scheme, a truly competitive pension scheme and an award-winning flexible benefits plan. In addition, you'll have the opportunity to volunteer for up to two working days each year.