Consultants offer clients access to higher levels of technological and business expertise than would be feasible for them to retain in-house, allowing cost-effective improvements to be made to their organisation.
Sparta global at a glance
Key facts:
We are a leading provider of technology and business consulting services
We power digital transformation through our high-impact consulting model and innovative approach to problem-solving
Our junior consultants gain valuable exposure to different types of projects and diverse industries such as Finance, Government, Retail, Health and Digital Media
We have over a hundred Government and private sector clients
Our graduate programme inspires, develops and trains graduates to become fully-fledged technical and business consultants
Discipline groups recruited...
Aerospace
Chemical/Process
Civil/Building
Computing/Technology
Electronic & Electrical
Materials & Minerals
Mechanical/Manufacturing
Sciences/Maths
Opportunities & Benefits: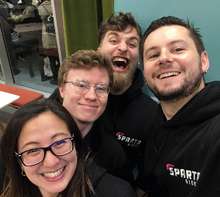 We are looking for talented graduates to join our exciting Technology Consulting, Business Consulting and Data Analysis programmes.
We invest in your career from the get-go by offering free, commercially-relevant training and live business case studies and projects. After this, you'll help to deliver a variety of digital transformation projects, combining your business and technical acumen to help your clients solve business problems with tech-savvy solutions.
Working with dynamic teams and industry leaders, you'll have the opportunity to help some of the biggest brands in industry, gain fantastic experience and deliver exciting products that make a big impact on society.
Benefits include life insurance from day one; Sparta support fund on placement; and continuous learning, development and training opportunities for the duration of the programme.