Technology Consultants advise clients on how to best use technology to achieve company goals and overcome any obstacles. Consultants also often install and manage the IT systems needed to make such improvements.
Tata consultancy services at a glance
Key facts:
IT, business, technology and engineering services consultancy
Services are delivered through our unique Location Independent Agile Delivery Model, recognised as the benchmark of excellence in software development
Clients include many of the world's largest businesses
'Global Top Employer' for three consecutive years
424,000 employees, 110 nationalities, 46 countries
Founded in 1968
Part of the Tata Group, India's largest multinational business group
Discipline groups recruited...
Aerospace
Chemical/Process
Civil/Building
Computing/Technology
Electronic & Electrical
Materials & Minerals
Mechanical/Manufacturing
Sciences/Maths
Opportunities & Benefits: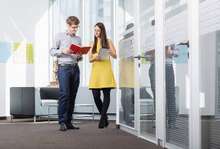 With TCS you will be exposed to the future of technology, work with some of the brightest global minds in the industry and support many of the biggest brands in the UK and worldwide. Recognised as an employer of choice, having won numerous awards in the UK and beyond, TCS is a fast-growing global IT powerhouse at the forefront of innovation and transformation. Join TCS and discover an inspiring team with dedicated leaders who will guide you through every stage of your career.
We offer an exceptional start to your career in IT in a global and multicultural environment. You'll receive a graduate induction, bespoke training and mentoring programme, and comprehensive opportunities for further training and development through our Talent Development programme and gamified online learning platform and apps. We also provide a successful employee engagement and community volunteering platform and a comprehensive employee well-being programme.