Companies in this sector manage the design, development, test, production, support and sales of rotary aircraft, and provide the sensors and electronic systems that sit under the skin of the world's most advanced aircraft.
Leonardo at a glance
Key facts:
With its origins in companies such as Marconi and Westland, Leonardo's presence in the UK dates back to 1898
Major operations in the UK, Italy, Poland and the US
Leonardo helicopters are used by more than 1,400 customers in over 100 countries
A global leader in defence electronics and responsible for delivering over 60% of the Eurofighter Typhoon on-board avionics
Invests over 10% of its annual revenues into R&D
4 Training Academies across the globe for customer training
75 global Customer Service and Support Centres
Discipline groups recruited...
Aerospace
Chemical/Process
Civil/Building
Computing/Technology
Electronic & Electrical
Materials & Minerals
Mechanical/Manufacturing
Sciences/Maths
Opportunities & Benefits: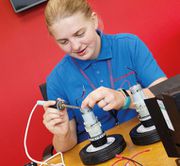 Each year we seek to recruit enthusiastic people who are willing to drive change and innovate. Your talent and energy are essential to the future of our high-tech business to allow it to continue evolving in the competitive market and to ensure we meet our customers' needs. All our opportunities provide practical experience and training in a supportive environment, offering personal fulfilment through the highest quality education and development.
Leonardo values its people and we reward commitment with a competitive remuneration and flexible benefits package including: generous relocation package, free parking, award-winning pension scheme, flexible working, onsite Occupational Health Service, onsite shops/restaurant facilities and employee discount schemes.