The Aerospace - Armed Forces sector uses state-of-the-art static radar, mobile units, aircraft and satellites to gather minute-to-minute information on airspace activity in and around the UK, providing vital early warning of potential threats such as unauthorised aircraft or missiles.
The Royal Air Force at a glance
Key facts:
The UK's aerial, peacekeeping and fighting force
Identifies and manages threats before they materialise through Intelligence, Surveillance and Reconnaissance (ISR)
Rapidly deploys aircraft and personnel around the world to deter conflict and defeat adversaries
Ready to scramble state-of-the-art Eurofighter Typhoons in minutes to intercept threats
Evacuates civilians and military personnel from natural disasters and unrest
Monitors threats in space
Discipline groups recruited...
Aerospace
Chemical/Process
Civil/Building
Computing/Technology
Electronic & Electrical
Materials & Minerals
Mechanical/Manufacturing
Sciences/Maths
Opportunities & Benefits: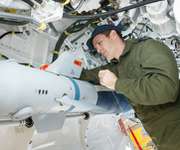 The Royal Air Force gives you opportunities you won't find in any other career. The experience you gain with us will equip you to work at the top of your field, both in the UK and overseas. You'll be stretched every day and get the very best training to take on any challenge. As an Engineer in the RAF, you will become a skilled professional, a leader and a manager. In short, you will join the ranks of the best and brightest.
The RAF provides a highly competitive benefits package that includes everything from bonuses to a gym membership and discounts for you and your partner. You'll also receive world-class training and ongoing development; six weeks of paid holiday each year, plus public holidays; free medical and dental care; and opportunities for sport and adventure training.