Countries and communities across the globe depend on the operations of the Aerospace & Defence sector to ensure the safety and security of their people.
Babcock at a glance
Key facts:
Global Aerospace & Defence organisation delivering complex and critical engineering services in the UK and internationally
Manages vital assets within a number of industry sectors, including defence, aerial emergency services and nuclear
Expertise in technology integration, infrastructure management, and specialist training
Revenue of £5.2 billion in 2018/2019 and a combined order book and pipeline of circa £31 billion
Over 35,000 employees
Over 268 sites in the UK and circa 99 internationally
Discipline groups recruited...
Aerospace
Chemical/Process
Civil/Building
Computing/Technology
Electronic & Electrical
Materials & Minerals
Mechanical/Manufacturing
Sciences/Maths
Opportunities & Benefits: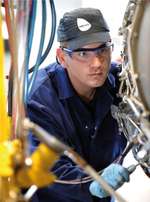 Whether you want to be an engineer or a project manager, we'll bring out the best in you. Tackling some of the most exciting projects out there, our engineering and science graduates work on everything from electrical and electronic engineering to naval architecture.
In return, you can look forward to a competitive starting salary of between £29k and £31k and the kind of proper, real-world experience that careers are built on.
It's not all work and no play here - we have clubs and societies, regular five-a-side football matches, and inspiring charity fund-raisers. And that's not to mention the vital part graduates play in our STEM Ambassador programme, which promotes technical subjects in schools throughout the UK.