As an island nation, our prosperity and security are dependent on access to the sea, and it is the responsibility of the Royal Navy to respond to any events that threaten our economy, our people, or our national interests.
The Royal Navy at a glance
Key facts:
Protects Britain's interests around the globe
Safeguards the high seas trade routes that Britain depends on for 95% of its economic activity
Protects and prevents conflict on home and international waters
Operates a range of versatile ships, submarines, aircraft and technology
Provides humanitarian assistance
Offers an unrivalled variety of engineering opportunities
Discipline groups recruited...
Aerospace
Chemical/Process
Civil/Building
Computing/Technology
Electronic & Electrical
Materials & Minerals
Mechanical/Manufacturing
Sciences/Maths
Opportunities & Benefits:
Being in the Royal Navy means getting stuck in from the start, developing skills and gaining qualifications - and getting paid for it from day one.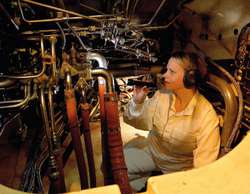 Operating within the Weapon, Marine and Air Engineering disciplines, you will have the opportunity to be responsible for everything from nuclear-powered submarines to next generation missile systems and jet fighters. Alternatively, Training Management Officers ensure that personnel have the skill and qualifications that enable them to operate under all conditions. Whichever career you choose, you will be leading a team of highly-skilled technicians and utilising your engineering knowledge to keep the Royal Navy ready to fight and win.
Benefits include a £27,000 joining bonus, the opportunity to travel the world, fast track route to Chartered Engineer status, 6 weeks' paid holiday and an excellent pension scheme.