Using R&D and feedback from customers, engineers in this sector develop and test product innovations for motor vehicle manufacturers. These can range from state-of-the-art light and brake systems to air filters that reduce exhaust pipe pollution.
Bosch at a glance
Key facts:
Generated revenues of £3.5 billion (EUR 4 billion) in the UK in 2017
More than 40 UK locations
Operates in some 60 countries around the globe
125 engineering locations worldwide
Spends over €5 billion each year on R&D
The Bosch anti-skidding system ESP® saves thousands of lives each year
Bosch direct injection, in conjunction with downsizing and turbocharging, reduces fuel consumption by up to 30 percent compared with conventional engines
Discipline groups recruited...
Aerospace
Chemical/Process
Civil/Building
Computing/Technology
Electronic & Electrical
Materials & Minerals
Mechanical/Manufacturing
Sciences/Maths
Opportunities & Benefits:
Do you want beneficial technologies to be shaped by your ideas? With us, you will have the chance to improve quality of life all across the globe. Welcome to Bosch.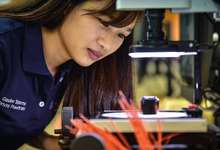 We don't know what type of career you have in mind. But we do know that you can find the right opportunity with us. Bosch is more diverse and international than almost any other company. Show us what you can do, and where you want to go, and we'll provide you with the support to develop your talent and personal strengths.
Our compensation for your work is not just good, it's equitable. Pay structures at Bosch are fair and transparent. After all, we want to build a long-term, successful working relationship with you. We'll also add a range of attractive benefits to your basic salary, such as our company pension, flexible and mobile working options and employee discount schemes.