Companies in this industry provide infrastructure solutions to a wide range of sectors including transportation; water; power; natural resources; and construction & property. This involves working closely not only with their clients but also with their partners and communities in order to deliver world class results.
Murphy at a glance
Key facts:
Leading global, multi-disciplined engineering and construction company
Has a number of related businesses - Ground Engineering; Utility Connections; Murphy Plant; Highways & Streetworks; Murphy Process Engineering; Pipeline Testing Services; Specialist Welding Services; and Electrical Services
Specialists in delivering pipelines; design; marine; structural steel; tunnelling; fabrication; bridges and piling
Turnover nearing £1bn
More than 4,000 employees around the world and operations in the UK, Ireland, Canada, USA, Australia, the Middle East and Africa
Founded in 1951
Discipline groups recruited...
Chemical/Process
Civil/Building
Computing/Technology
Electronic & Electrical
Materials & Minerals
Mechanical/Manufacturing
Sciences/Maths
Opportunities & Benefits: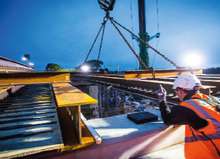 At Murphy, we place our people at the heart of our company and everything we do. The diversity of individuals and skills we require is huge - we need a large workforce of varied skills to match the size and complexity of our projects. With such a range of activities and professions, Murphy is the ideal place to develop your career. Whether you want to be a chartered engineer or a quantity surveyor, there are plenty of ways to join our world, and with summer placements, industrial placements, and our brilliant graduate scheme to top it all off, you'll be well on your way with us.
We're a family firm and we look after each other, and that means looking after you financially too. On our graduate scheme you'll receive a £30,000 starting salary plus £5,000 car allowance, company pension, 27 days' annual leave and private medical insurance. Other benefits include performance-based staff bonus, cycle-to-work scheme and two days per year as volunteering days.