Civil engineering is everything you see that has been built around us. The role of a civil engineer is to create, improve and protect the environment in which we live. This is through planning, designing and overseeing the construction of infrastructure such as roads, bridges, railways, wind farms, water and wastewater networks and much more.
Farrans at a glance
Key facts:
Leading figure in the UK construction market
Turnover of circa £375 million
75+ years' experience in various sectors including education, local infrastructure, water, marine, private development and onshore energy
500+ employees
33% of Farrans employees have obtained Chartered status
Offices in Belfast, Woking, Cambridge and Edinburgh, as well as sites throughout the UK and Ireland
Owned by CRH plc, a global building materials company operational in 3,600 locations worldwide
Discipline groups recruited...
Civil/Building
Computing/Technology
Electronic & Electrical
Mechanical/Manufacturing
Sciences/Maths
Opportunities & Benefits: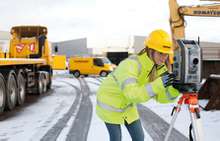 At Farrans we proactively invest in our people to build their skills and mindsets and we have a commitment to learning and continual professional development. We pride ourselves on our ability to nurture new talent and strongly believe that our long term success lies in the young people of today.
We are registered training providers with the Professional Institutions relevant to our industry, and our 'Farrans Advance' scheme guides each person down their chosen path towards Chartered Professional status.
As well as the opportunity to work on exciting projects and become part of the Farrans family, we also offer a highly competitive salary, pension scheme, share options, a Farrans mentor and, for graduates joining the 'Farrans Foundation' - our bespoke, two year graduate programme - a £2k company investment in your professional development.