The work of companies in the Design & Consultancy sector has a huge impact upon the real world, from providing the clean water in a morning cup of coffee, to the green electricity powering the kettle that brews it, and the quicker commute to an ultramodern office.
Transform your world
At Arcadis, we never lose sight of what's most important. Look beyond our projects and programmes and you'll see it's about human stories. From remaking public spaces that bring people together, to making cities easier to navigate, we're focused on improving quality of life.
It's a big challenge. And why we need people committed to bringing their best, who deliver on their promises. People who value different perspectives, build sustainable relationships and dare to shape the future. People who seize the experiences available to transform their world - and the world around them.
It's a shared goal amongst 27,000 Arcadians. And one we can only achieve by working together and applying our skills and expertise across design, consultancy, engineering, project and management services. It's how we'll find solutions to our clients' most complex challenges. And how we'll deliver exceptional results, today and tomorrow.
Discipline groups recruited...
Aerospace
Chemical/Process
Civil/Building
Computing/Technology
Electronic & Electrical
Materials & Minerals
Mechanical/Manufacturing
Sciences/Maths
Opportunities & Benefits:
At Arcadis, you'll have the opportunity to build the career that's right for you. Because each Arcadian has their own motivations, their own career goals. And, as a 'people first' business, it's why we'll take the time to listen, to understand what you want from your time here, and provide the support you need to achieve your ambitions.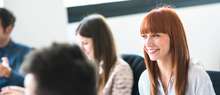 Wherever you join us, you can look forward to a competitive reward package that includes an attractive starting salary, opportunities for career development and being part of a sociable community. We have a performance-related bonus scheme and an employee recognition scheme. Other benefits include membership fees to join your relevant professional body, financial support for conversion courses, employer contribution pension scheme, flexible working and generous holiday and study leave.