Graduate electrical engineers work in world-class teams to design and deliver sustainable solutions. Work spans a variety of sectors including building services, power, transportation, telecoms, and water. As the digital revolution is applied to the provision of essential services, electrical engineering will play a central role in creating smart infrastructure, helping to deliver better and quicker performance.
Mott MacDonald at a glance
Key facts:
Employee-owned global engineering, management and development consultancy
Our engineers, project and programme managers take lead roles in some of the world's highest-profile infrastructure and development projects
Clients include governments, development banks and NGOs
Over 80% of our work is for long-term or repeat clients
16,000 employees
Discipline groups recruited...
Aerospace
Chemical/Process
Civil/Building
Computing/Technology
Electronic & Electrical
Materials & Minerals
Mechanical/Manufacturing
Sciences/Maths
Opportunities & Benefits:
Many of our people joined Mott MacDonald for the chance to utilise their skills on projects that make a difference to the communities that we live and work in. Join our innovative network of experts and not only will you learn something new every day, but you will also be right in the thick of the excitement.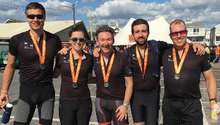 Start your career with us and you will have an array of opportunities at your fingertips. You'll be part of a globally connected community with access to an exceptional breadth of career paths.
You can expect to earn a competitive starting salary, and we share a proportion of each year's profit among our staff in the form of a yearly bonus. The range of activities organised by our office sports and social committees is almost as diverse as the people who work for us. From football matches to theatre trips, quizzes and inter-office competitions - there is always something to get involved in.