Companies in this sector create value from land and buildings owned or operated by their clients. This involves working on projects including urban development, building services engineering and water management whilst ensuring environmental preservation, which in turn creates better places for communities.
PBA at a glance
Key facts:
Leading consultancy of engineers, planners, environmental consultants, and economists
Services include buildings, civil engineering, transport, planning, environment, geotechnical engineering, infrastructure planning, and water management
Projects include Battersea Power Station in London, O2 Universum in Prague, and Paradise in Birmingham
13 offices in the UK, and three in central Europe
750 employees
New Civil Engineer (NCE) Top 100 Companies of the Year 2019
Founded in 1965
Discipline groups recruited...
Chemical/Process
Civil/Building
Computing/Technology
Electronic & Electrical
Materials & Minerals
Mechanical/Manufacturing
Sciences/Maths
Opportunities & Benefits:
PBA has always stood at the forefront of cutting-edge consultancy, delivering trusted advice for over 50 years. We have made a transformational decision by joining Stantec, an international design consultancy with 22,000 staff in 400 offices around the world.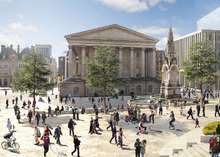 Our Graduate Programme isn't just focused on career development, but also on building a network of people at a similar stage in their career. The programme offers an induction networking event, assignment of a business mentor, business skills training, site visits and professional development activities. Our graduates are encouraged to follow a formal training scheme with their appropriate professional institution.
We have two Graduate Pathways available as some of you will know exactly which discipline you want to progress your career in, and others may want to try out a few and see what they like!