A civil engineer helps envision, build and maintain varying construction and infrastructure projects that societies depend on every day - from roads and railways to airports, schools, offices, hospitals, bridges and much more. This infrastructure has to be kept running effectively and may need to be adapted to overcome challenges such as population growth and climate change.
Kier at a glance
Key facts:
Leading infrastructure services, buildings, developments and housing group
We operate across a range of sectors including defence, education, health, housing, industrials, power, transport and utilities
Employees across the UK and international offices in the Middle East
60 UK offices
Around 400 projects on site at any one time
The roots of the business go back nearly 100 years
Discipline groups recruited...
Aerospace
Chemical/Process
Civil/Building
Computing/Technology
Electronic & Electrical
Materials & Minerals
Mechanical/Manufacturing
Sciences/Maths
Opportunities & Benefits: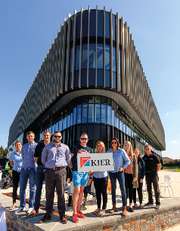 Are you enthusiastic about finding solutions to get a job done for the benefit of customers and communities? Are you good at taking on board others' views and working in a team, to achieve more? Are you prepared to embrace new ways of doing things, with innovation and technology?
With a business as diverse as ours, we can offer a range of opportunities. Every project we work on draws on the skills and expertise of our people. Their job is to make a positive impact on the world. Because what we achieve together in a day will have benefits that last for generations. At Kier we are looking for the best and brightest people, from a wide range of backgrounds, to bring fresh thinking to our sector-leading teams.
When you join Kier you'll find a range of benefits on offer including 26 days' leave per annum, pension scheme, life assurance, share options and access to high street discounts for thousands of retailers.