The Built Environment - Civil Engineering industry creates and improves the buildings, bridges, public parks and other human-made surroundings that we live, work and relax in on a daily basis.
Arup at a glance
Key facts:
Global firm of designers, engineers, planners and business consultants
Provides a range of professional services to clients around the world
More than 14,000 specialists, working across 90+ disciplines in more than 34 countries
Creative force behind many of the world's most innovative and sustainable designs
Projects include Sydney Opera House, Beijing National Stadium and Water Cube, Millennium Bridge, the Swiss Re Headquarters and the City of Manchester Stadium
Discipline groups recruited...
Aerospace
Chemical/Process
Civil/Building
Computing/Technology
Electronic & Electrical
Materials & Minerals
Mechanical/Manufacturing
Sciences/Maths
Opportunities & Benefits: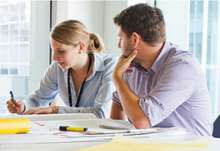 Talented people like you join Arup for the opportunity we provide to work on some of the world's most exciting projects, to develop a specialism of your own or simply to find your niche. The chance to work with some of the world's leading experts, the range of professional opportunities, and the support and freedom for innovation means that we remain a magnet for many of the world's most skilled engineers and designers.
Our Graduate Total Reward Package includes a generous settling-in payment, profit share and a market-leading Flexible Benefits scheme. You'll also receive a generous company pension, private medical insurance, support to become professionally qualified with several accredited training schemes, and reimbursement of two subscriptions to professional bodies.