Companies in this sector work closely with clients and architects to provide engineering consultancy services which cover the entire life cycle of any building project.
Cundall at a glance
Key facts:
International multi-disciplinary consultancy operating in the UK, Australia, Asia, MENA, and Europe
Established in the UK 40 years ago
Core services include Building Services Engineering, Civil Engineering, Structural Engineering and Sustainability
Specialist services include Acoustic Engineering, Building Information Modelling (BIM), Fire Engineering, Planning, and Vertical Transportation
Over 900 staff across the globe
Every project is led by a Partner/Director
Frequent award-winner
Discipline groups recruited...
Aerospace
Chemical/Process
Civil/Building
Computing/Technology
Electronic & Electrical
Mechanical/Manufacturing
Sciences/Maths
Opportunities & Benefits: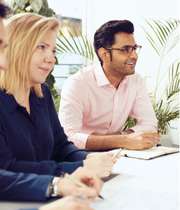 As a medium-sized, but truly international consultancy, we are big enough to be able to provide a wide range of challenging projects for our staff, but still at a size where our graduates can be treated as individuals, and given real responsibility at an early stage.
There is a large variety of things that people can enjoy when working at Cundall. Professionally, there's the chance to take part in outstanding national and international projects; personally, there are many ways to develop your talents and interests.
Our salary and benefits are competitive, and we offer a great working environment and comprehensive training. Opportunities to socialise with colleagues at team and office level are readily available, and Cundall supports social activities through the provision of a 'social fund'. In addition, "Shape Your Rewards", our flexible benefits scheme, allows you to shape your rewards to suit your circumstances each year.