Engineers are dedicated problem solvers. From initial planning to aftercare and maintenance, they play an essential part in developing the best products and technologies that crack their customers', and the world's, toughest challenges.
Emerson at a glance
Key facts:
Automation Solutions
We help manufacturers achieve top quartile business performance through the industry's broadest portfolio of technologies, allowing them to measure, control, optimise, and power their operations.
Commercial & Residential
We offer innovative, reliable solutions to keep businesses running smoothly, from our energy-efficient HVACR systems to state-of-the-art compressors, condensers and heat exchangers, and compressor technology that delivers longer life, higher reliability and better part-load efficiency.
Discipline groups recruited...
Aerospace
Chemical/Process
Civil/Building
Computing/Technology
Electronic & Electrical
Materials & Minerals
Mechanical/Manufacturing
Sciences/Maths
Opportunities & Benefits: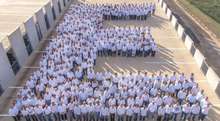 Want to achieve your career goals in an exciting and dynamic global work environment? We are looking for the next generation of problem solvers and innovators like you to join our team at Emerson.
Whether you are an undergraduate exploring your career options, an engineering student looking for the next challenge, or an MBA degree recipient ready to join a global company, we offer a wide range of exciting opportunities to learn and grow your career, including face-to-face and virtual training, mentorship and coaching, on-the-job training and regular workshops.
Employee development is embedded in our company culture. As a global business spanning multiple countries, cultures and industries, we invest in our employees to ensure that they continue to grow and learn in their roles on an ongoing basis.