IT services companies lead digital transformations for their clients by modernising and integrating their mainstream IT, and by deploying digital solutions at scale to produce better business outcomes.
DXC Technology at a glance
Key facts:
The world's leading independent, end-to-end IT services company
Serves nearly 6,000 private and public sector clients from a diverse array of industries across 70 countries
Multiple global offices
A Fortune 500 company
$25 billion in annual revenues
170,000 employees worldwide
250+ industry-leading Strategic and Solution Partners
Created by the merger of CSC and the Enterprise Services business of Hewlett Packard Enterprise
Origins date back to 1959
Discipline groups recruited...
Aerospace
Chemical/Process
Civil/Building
Computing/Technology
Electronic & Electrical
Materials & Minerals
Mechanical/Manufacturing
Sciences/Maths
Opportunities & Benefits:
At DXC, we thrive on creating value for our customers by expertly guiding their digital transformation journeys.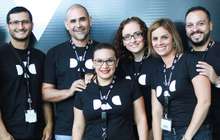 We have the global reach and industry experience to kick-start your digital career with access to amazing opportunities, leaders and colleagues. We're looking for the next generation of talented graduates to join our organisation. From AI to blockchain, you'll be exposed to the newest IT challenges, working on innovative projects for our wide range of clients which includes Rolls-Royce, BAE Systems and Network Rail. If you have energy and enthusiasm for realising positive change for our clients and DXC as well as developing your own potential, your growth opportunities with us are boundless!
Join us and you'll receive a highly competitive starting salary and the opportunity to attain industry-recognised qualifications in your chosen field. You'll be supported through structured and on-the-job training, and, in addition, we offer a flexible, comprehensive benefits and rewards system with the option to select further benefits via our online scheme.