Companies in this sector provide capability such as armoured fighting vehicles, avionic systems and tactical communications to armed forces, both in the UK and around the world.
General Dynamics UK at a glance
Key facts:
Discipline groups recruited...
Aerospace
Chemical/Process
Civil/Building
Computing/Technology
Electronic & Electrical
Materials & Minerals
Mechanical/Manufacturing
Sciences/Maths
Opportunities & Benefits: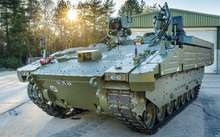 A career at General Dynamics UK is challenging and rewarding. From day one, you will be involved in delivering innovative capability to the UK Armed Forces and customers worldwide. You will develop new skills that will serve you throughout your career. As an employee of General Dynamics UK, you will be supported throughout your career to enable you to make the most of the different opportunities available.
We offer a competitive starting salary, plus bonus of up to 10 per cent (depending on individual and company performance) as well as flexible working in the form of a nine-day fortnight, and supported mentoring, training, learning and development. You'll also gain valuable in-depth hands-on exposure and experience on a variety of projects, and receive company support to achieve Chartered status and additional or professional qualifications.