BUUK Infrastructure forms part of a group of companies who are the leading independent providers of utility infrastructure solutions in the UK. We have gained our credentials due to the first-class performance of our greatest asset – our staff.
We offer a long-term, satisfying place to work that our people feel proud of. We all have a can-do attitude which allows for flexible thinking and ensures our employees feel empowered to make decisions. Across BUUK we have created a strong team mentality with short communication lines and encourage innovative new ideas.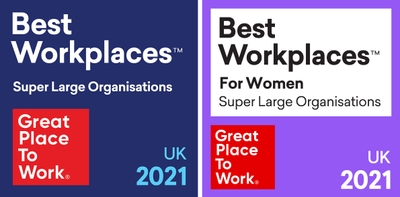 We also are committed to helping our local communities, getting involved in volunteering projects and raising money for charities which are chosen by our employees. We value the vital role everyone plays towards the growth and continued success of our business, and we are proud of the passion and commitment shown by every member of our hard-working team.
We would like to hear from talented people who believe they can help grow our exceptional business. We offer rewarding and progressive career opportunities across a wide range of disciplines including: engineering, IT, sales, construction, HR, marketing, customer service, finance and management.
We are dedicated to helping our employees realise their ambitions and have a comprehensive learning and development programme to achieve this – from apprenticeships schemes to soft skills courses, graduate schemes, degrees and professional qualifications.
BUUK Infrastructure is an equal opportunities employer and aims to ensure that its workforce reflects the diversity of the communities in which it operates.
We have also been recognised by our employees as a Great Place to Work® for the fourth year running and we ranked 13th in the Super Large Best Workplaces ™ category.