About us
BUUK Infrastructure Group of companies design, construct, own and operate utility infrastructure networks throughout the UK.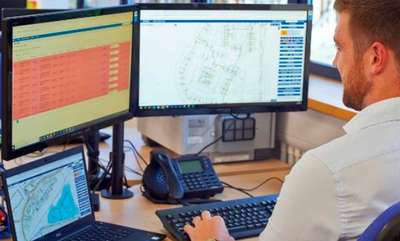 These networks are almost exclusively installed on new-build housing, mixed-use and commercial developments. We provide traditional and next-generation utility infrastructure solutions in Electricity, Water, Wastewater, Fibre, Heat and Gas.
About the programme
The BUUK IT Apprenticeship scheme is a perfect opportunity for hard working, talented individuals who are aiming to complete, or completed level 3 education (A-Levels, BTEC Nationals, or equivalent) and are looking towards their first or next step of their career and want to focus on working whilst studying.
We offer a 4-year IT apprenticeship programme for those who and want to focus on working in IT whilst studying for a degree. We will give you a taster of life in IT over several disciplines so you will get a full understanding of each area and develop skills in each.
Disciplines include:
Applications Development - Developing apps using cutting edge technology. By providing green field development, integration, modification, and support to a suite of systems from asset enquires and management to in field work trackers.
Applications Support - An ideal role for someone looking to build on their analytical and development experience. Work to support SQL and .NET through data manipulation, debugging and application development.
Business Analyst - Enjoy working with a variety of people to understand how they work and how that links with their goals? This role would be a good fit.
Project Manager - Working with different people to get stakeholders what they need, whilst working to a plan. Lead projects through the planning, implementation, testing stages and successfully deliver into daily operations including handover to support.
Service Analyst - Enjoy working virtually to engage with customers to support use of e-mail, Office, Teams whilst maintaining an eye on cyber security? You can provide front of house technical services at the IT Hub.
Service Engineer - Delivering hardware support throughout the business. Roll up your sleeves to build, configure and repair laptops, tablets, and mobile phones.
Finance Systems Analyst - Working with our partners in the Finance Department supporting the delivery of our finance suite through analysis, testing, deployment, and support.
Whilst developing your skills on the job you will work towards a degree in Digital and Technology Solutions. You'll be given time each week to study remotely and time to put your learning into practice 'on the job'.
The role is based at our head office in Woolpit, Suffolk, where over 500 of our 2000+ employees work supporting our Company. Our head office also offers free car parking and a subsidised restaurant on site.
BUUK Infrastructure has been recognised by its employees and Great Place to Work® and offers an excellent starting salary of £21,724 and comprehensive benefits package.
We've signed the Gradcracker feedback pledge.
(This means that we will supply feedback if requested after an interview.)
1e127ede32d8f816eacfb0aed73cee11