Do you want to join a multi-utility infrastructure provider that has been recognised as a Great Place to Work?
BUUK Infrastructure know that our greatest asset is our staff, and we are a company that our people feel proud to be a part of. The passion and commitment shown by every member of our team allows us to succeed in our mission statement – "To deliver consistently high-quality service to customers to earn their long-term loyalty to BUUK."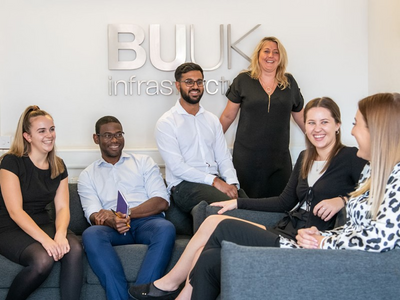 BUUK Infrastructure are currently recruiting for a Network Analyst to support in the monitoring and analysis of its Water and Wastewater Network performance data, to drive efficiencies through reconciling usage and reporting anomalies that may occur. This full time, permanent position is based at our office in Cardiff.
We are ideally looking for someone with previous experience of data analysis and use of statistical packages. It would also be beneficial if you held a numerical qualification. As part of your role, you will be required to carry out some travel, therefore it is essential you hold a full UK driver's licence. Training on our systems and the company will be provided.
This is an exciting opportunity for someone to take the next step in their career and join a company that has been recognised as a Great Place to Work®.
Responsibilities will include -
Provide network performance data
Collate meter/consumption data to feed the billing and bulk meter reconciliation process
Analyse data logger/bulk meter information
Work to identify data gaps and assess options for new and innovative ways to capture data
Develop long-term Smart Networks strategy and automated reporting
Assist with the development and implementation of Network Resilience plans for existing and new Water and Wastewater networks
Along with a rewarding working environment we offer a competitive starting salary, pension and life assurance. We offer 25 days' holiday plus bank holidays (plus the opportunity to purchase more through our flexible benefits scheme), corporate perks (reduced cinema tickets and discounts at high street shops), wellbeing assistance (24-hour helpline and counselling service) and a social calendar with events taking place throughout the year. Our Woolpit office also has staff car parking and a subsidised restaurant available on site.
We currently offer a mixture of office and remote working for positions where possible and are taking precautions to ensure all of our staff are safe. Please don't hesitate to contact us to discuss this further.
The Company
BUUK Infrastructure is the leading independent provider of last-mile utility networks. Our businesses design, construct, own and operate utility infrastructure networks throughout England, Wales and Scotland. These networks are almost exclusively installed on new build housing, mixed use and commercial developments and our customers included national and regional housebuilders, developers, landowners and contractors.
We provide traditional and next generation utility infrastructure solutions in:
Heat
Electricity
Gigabit Fibre
Water & Wastewater
Gas
Our diverse businesses also have interests in a number of utility related retail businesses, providing telephony and data, water, wastewater and heat-energy services, directly to end consumers connected to our networks.
What is in it for you?
25 days of annual leave, plus bank holidays (and the chance to buy more)
Free on‐site parking with modern office facilities, including a restaurant.
Social calendar with events taking place throughout the year.
Competitive starting salary, with pension and life assurance included.
Corporate rewards, such as high street discounts and reduced cinema tickets.
We've signed the Gradcracker feedback pledge.
(This means that we will supply feedback if requested after an interview.)
1e127ede32d8f816eacfb0aed73cee11