BRINGING THE BEST OUT OF YOU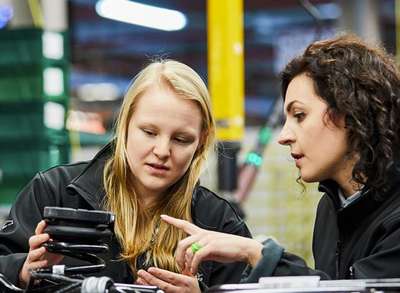 The Jaguar Land Rover Learning Academy is a home for lifelong learning that offers engaging, relevant and personalised learning content and experiences.
If you're curious and take your development seriously, we'll invest in your learning and growth to optimise your performance, whatever your role. In fact, in our ever evolving workplace, your consistent development is essential.
You'll also benefit from an environment where managers actively share what they are learning and encourage others to grow and stretch, and where they coach and mentor others to maximise their team's performance and continued growth.
THE LEARNING ACADEMY
The Jaguar Land Rover Learning Academy enables our people to learn, create, grow and to support others to do the same; daring each other to embrace the changes and the challenges we face and ensure our future is bright.
Not all learning takes place in a classroom. Much will be delivered using a blended format and demands an inherent level of curiosity from you, the learner. To be very clear – you're the biggest influence on your learning and development and we want you to be daring and bold when it comes to maximising your potential.