Our deep commitment to continuous improvement compels us to take meaningful actions that benefit the greater good and to fulfil our obligations as global stewards of the environment.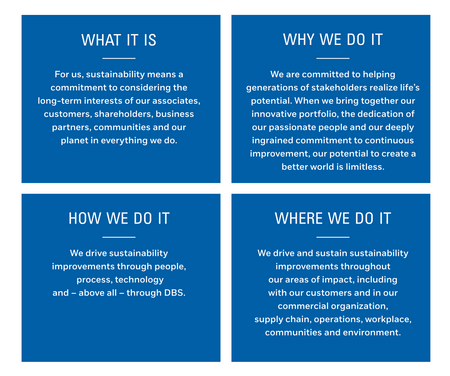 In 2020, we announced our goals to reduce our energy consumption and greenhouse gas emissions, and the percentage of non-hazardous/non-regulated waste sent to landfill or incineration, each by 15% by the year 2024. To help operationalise these improvements across our businesses, we have broadened the application of our DBS energy management and waste reduction toolkits.
We believe that setting explicit goals provides the transparency and accountability necessary to drive meaningful change, and we'll continue to prioritise measurable progress across the many facets of our environmental stewardship.
Our commitment to sustainability flows naturally from Our Shared Purpose and our five Core Values. Our Sustainability Mission Statement (the "Mission Statement") provides as follows:
What it is. For us, sustainability means a commitment to considering the long-term interests of our associates, customers, shareholders, business partners, communities and our planet in everything we do.
Why we do it. We are committed to helping generations of stakeholders realise life's potential. When we bring together our innovative portfolio, the dedication of our passionate people and our deeply ingrained commitment to continuous improvement, our potential to create a better world is limitless.
How we do it. We drive sustainability improvements through people, process, technology and above all through the Danaher Business System (DBS).
Where we do it. We drive and sustain sustainability improvements throughout our areas of impact, including with our customers (through our products, services and solutions) and in our commercial organization, supply chain, operations, workplace, communities and environment.