What we do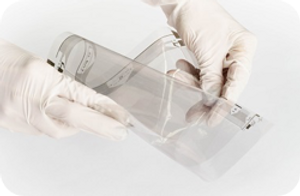 FlexEnable's award-winning organic electronics platform and high-performance Organic Thin-Film Transistor (OTFT) materials enable low cost, glass-free flexible displays, sensors and optics that can be conformed and shaped to almost any surface.
We work with display manufacturers, Original Equipment Manufacturers (OEMs) and Tier 1 companies to bring these ground-breaking technologies to mass market applications.
World leaders in flexible electronics
With around 700 patents and more than 1,000 engineering years in the development of organic materials and manufacturing processes, FlexEnable is the worldwide leader in organic electronics.
FlexEnable was spun-out of Cambridge University with a focus on using organic thin-film transistors (OTFTs) to replace glass in large-area electronics with organic optoelectronic modules which are flexible, ultra-thin, ultra-light and unbreakable.
Many of the advantages of our award-winning OTFT technology derive from its uniquely low temperature manufacturing process, bringing significant process simplicity and cost advantages compared to other approaches.
FlexEnable also owns the best-in-class, highest-performance OTFT materials - FlexiOM™ - making us the only company to offer both materials.
We're bringing organic electronics technology to market in a fabless business model. Our processes and solutions have been developed to be run on existing flat panel display lines, leveraging existing assets and supply chain.
Applications for FlexEnable's technology include flexible displays for consumer electronics and automotive interiors, flexible sensors and optics.