Health and Work Life Balance
We all have a variety of roles to play in our lives; our time is in high demand; with family commitments, gym/sports, holidays, taking the dog for a walk, socialising, studying, reading a book or even tidying the house. It all takes up time in our busy lives.
Here at Sterling, we care about our colleagues, clients and community, and are supportive of the synergies between all areas that define "life": work, home/family, community, personal well-being, and health.
Be Empowered, Be Rewarded
Rewarding, enjoyable and varied are just some of the words our employees use to describe life at Sterling. Sterling is proud of its employees and the difference they make to people's lives through the work we do. For many, the best part of working at Sterling is the people, both in terms of their technical competence and teamwork.
We strive to provide supportive environments that encourage, challenge and reward our people. At Sterling you will have the opportunity to work within teams that strive for excellence at all times, be inspired by people who genuinely love the work they do and make your mark in an industry where constant change, innovations and challenges make every day a school day!
We recognise that individuals look for different benefits when they're considering new roles or careers. Here at Sterling, no one size fits all and we have a range of benefits and perks by region and role.
Come and join the Sterling family!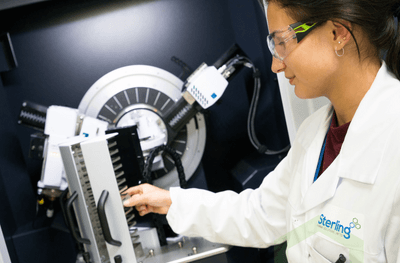 Early Career Paths at Sterling
We actively support early careers in a variety of ways, whether its offering employees' children and local school pupils the opportunity to gain work experience at one of our four global facilities or providing lifelong learning opportunities to develop those who choose to begin their career at Sterling as a graduate. Together, we have a bright future ahead.
Lifelong Learning at Sterling
Every day is an opportunity to learn something new at Sterling and this starts on day one with a comprehensive induction programme that's role specific.
We want to give our employees the opportunity to be the best they can, and want, to be. Whether that is learning about a new area of the business, completing qualifications, retraining to do something different or just keeping up with the trends and changes in the industry.
Taking advantage of training, coaching or mentoring opportunities at work is key to aid your professional development.