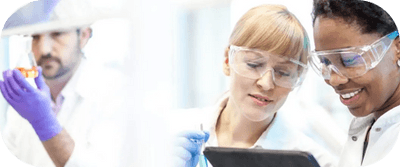 Science, Technology, Engineering and Maths (STEM) are at the core of everything we do here at Sterling, from measuring and controlling the materials that go into developing an API to full-scale manufacturing.
Explore below how each STEM subject is applied across everything we do.
Science

At Sterling, science is our passion. We apply science every day, from using physics to help us design and install plant and pipework, to using chemistry when performing experiments in our labs, and using biology to treat our waste in a more environmentally friendly way.

Technology

Our dedicated Technology and Innovation Programme allows us and our partners to explore the possibilities and practical application of new technologies in the pharmaceutical industry.

Engineering

We continually invest in and adapt our facilities to meet the evolving needs of our business, from maintenance to building custom pieces of equipment. Our engineering experts have over 350 years of collective experience; we can deliver the right solutions for even the most complex projects.

Maths

Numeracy, data and statistics are integral to what we do at Sterling. Therefore, maths is an important skill that is required within many roles and functions across Sterling. From finance and sales to production and health and safety, maths plays an important part.