How resilient is our commitment to Net Zero in a post COVID-19 world?
Up to early March 2020, there was a real sense of urgency around the Net Zero agenda. Plans were being drawn, commitments were being made and budgets allocated as there was a realisation that more urgent action was needed by government, industry and the private sector to address the climate change emergency.
Then COVID-19 became a global pandemic disrupting in an unprecedented manner. Impacting every aspect of corporate and individual lives with over a half of the global population living in lock-down. After coming to terms with the surreal and chilling prospects that COVID represents minds have drifted to ask: How resilient is our commitment to Net Zero in a post-COVID-19 world?

Clearly still in the early days of the COVID-19 pandemic response it will likely impact the geopolitical and geo-economic order in ways not seen since the end of the Second World War. Industry and private sector actors are therefore seeking to ascertain, as a function of the anticipated financial, economic and political disruptions, their capability to be able to attain Net Zero targets. Already views are emerging of possible trends which will impact the post COVID-19 era - including but not limited to:
Geo-politically we may be witnessing a significant event which may be accelerating the transfer of global leadership to the East. Asia, specifically China, might see its ability to exert influence on geopolitical matters - including climate change - substantially increased as western powers, principally the USA, accelerate their pursuit of protectionist policies in response to COVID, actively retreating from the world stage. It seems, at least at face value, that Asian countries - specifically China, South Korea and Singapore - have been more effective at limiting the impacts of COVID-19 within their borders compared to western democracies - having learnt the hard lessons from the SARs outbreak between 2002 and 2004. How will this potential transfer of power influence Asia's approach to climate change and Net Zero and will it result in a shift in global leadership around Net Zero?
Global Economics. There is a looming spectre of a deep global recession and increased national debt as a function of the $7 trillion economic stimulus measures implemented by global leaders. In the UK the Office of Budgetary Responsibility has warned that the pandemic may result in a 35% contraction of the UK economy by July. The Economist forecasts a global economic contraction of 3% in 2020[1]. Fiscal interventions totalling $7 Tn - as at 26th March and growing - are being introduced to stabilise national economies.While the broad narrative of governments across the world maintain that there will be a sharp economic recovery, this view assumes that COVID can be dealt with relatively swiftly and decisively in the next 6 months. Linked to geopolitics, it is widely believed that China is likely to reignite its economy before most OECD countries. A surge of Chinese exports might trigger a new wave of trade protectionism even while supply chain shortages and whole market sector workforces remain constrained by isolation measures elsewhere - thereby hindering the ability for the global economy to recover. In the context of net zero: Will fiscal policy have to tighten to allow the capacity for such stimuli again in the future? If so, how will disruptive, mission led innovation be funded and incentivised?
Global Industry and Business. Corporate balance sheets and human capital will be severely contracted and long-established supply chains may collapse. The capacity for radical innovation, principally balance sheet funded, to be developed will be reduced. Corporations are shedding headcount e.g. in by 3 April 2020 US claims for unemployment benefits hit nearly 17 million - the highest since records began. Even in the UK, unemployment may climb to 10% (2 million unemployed) not counting those furloughed. How resilient are UK supply chains, how might they change given the dramatic change in working practices and how could this affect Net Zero solutions, developments and innovations?
Risk. Global Financial and Insurance sector appetite for risk will likely reduce as the financial sector rebuilds war chests and premiums to cover risk will go up respectively. How will this impact the market financing of disruptive innovation needed to germinate and scale nimble start-ups?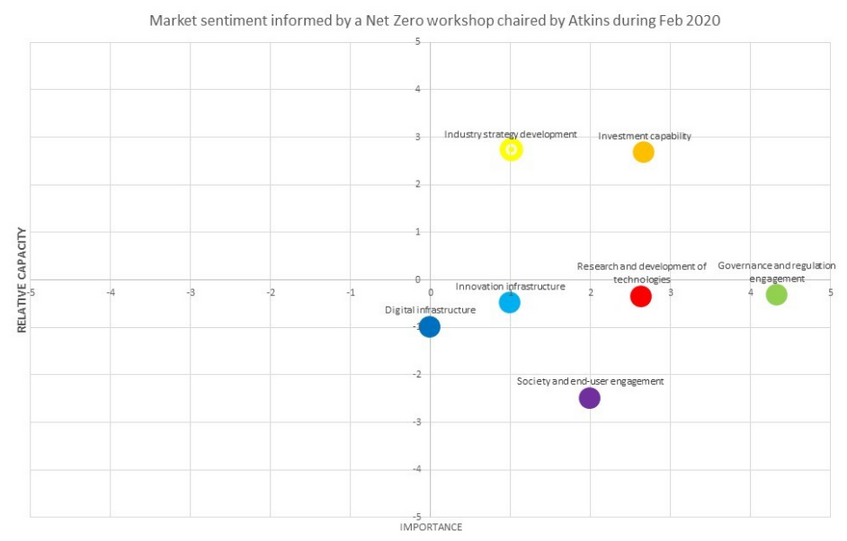 Crisis can present opportunities for re-emergence or the tendency to hit the reset button to the previous paradigam
It is on this basis that it becomes clear that the COVID pandemic can represent an increased opportunity or an increased risk in terms of industry and private sector actor's capability in attaining a Net Zero future. The scale of risk or opportunity realisation will therefore depend on how and to what extent organisations, government and society are able to harness the opportunities and mitigate the risks.
Over the past few weeks corporations and individuals have demonstrated their ability to innovate and adapt to new ways of working, with digital technologies allowing us to connect and collaborate in unprecedented ways. All this shows that it is entirely possible to rapidly change how we work and live. For example, deprioritising the need for travel has even within this short timeframe delivered improvements to air quality in urban centres around the world and reduced the carbon footprint of both global and local travel. Clearly even within the current climate we are not powerless to influence progress to net zero.
Though there is much uncertainty as to how industry and private sector actors might address the Net Zero agenda in a post-COVID-19 world the opportunity to develop collaborations between like-minded partners to minimise the risks and maximise the opportunities is almost certainly going to be needed - even more than before COVID-19. It is in the spirit of collaboration that ATKINS are engaging with the World Economic Forum to develop a cross-industry strategic dialogue. The strategic dialogue will seek to undertake a collaborative foresight exercise to explore the near-term future in the context of the COVID-19 Pandemic and its impact on industry and private sector actors capability to address Net Zero to 2050. The dialogue will take place via a series of cross industry webinars to discuss what the COVID-19 Pandemic may mean in the context of attaining Net Zero.
Let's not wait and see how COVID impacts our Net Zero aspirations and objectives, let's understand the problem, lean in and start steering the ship.