Delivering the best for communities and the environment as a graduate geotechnical engineer
My name is Hannah, and I'm a geotechnical engineer at Atkins in the UK. What I do involves everything underground that holds up everything above the ground, from bridges to highways to buildings. We uncover what's already come before us and design around it, or impact it with the new designs that we put in place.
Because of the types of project I get to work on, I come into contact with so many different disciplines, like drainage engineers and rail engineers. So I get to learn about how all the disciplines impact each other, and how whole projects come together.
Hannah – Graduate geotechnical engineer
Why Atkins?
I really liked the scale and variety of projects at Atkins. I've had opportunities to work on large, high profile projects as well as more local, niche ones. There are so many options, which has given me the chance to step up and follow my career ambitions.
It was also really important to me to work for a company recognised as a top employer. Atkins has a great graduate scheme and is an equal employer for women. Everyone is valued for their perspectives and recognised for their contributions equally.
What got you interested in geotechnical engineering?
I've always been fascinated by the built environment. I discovered civil engineering when I was in sixth form looking at different opportunities, outside of architecture, where I could use maths and physics. I also wanted to do something exciting and creative. It was only while I was at uni that I discovered ground engineering. I was fascinated by the risk involved – we can never be sure what's in the ground, and we can never quite quantify it.
Tell us about the award your team won.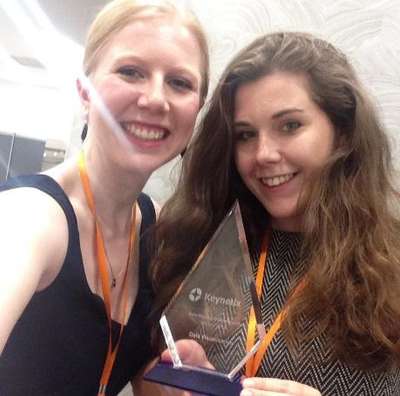 I love that in my role we're always pushing the boundaries so that we can make the design of the future better. So I was really fortunate to be involved in the team that worked on a new and innovative way of visualising data for our track bed design. And we won an award for our work!
What is your favourite thing about Atkins?
I love seeing what I've worked on come to life, I've witnessed my track bed and foundation designs being installed on site – not to mention seeing the tangible impact my work has had.
On the East West Rail project, I was given an opportunity to take a leading role on design improvements to the project's track bed – all the layers beneath the rails. It has been brilliant for my development. I've spoken to people I never thought I'd talk to, pushed myself forward and out of my comfort zone. Most importantly I was given all the support I needed to get it done right.
Besides projects what other opportunities have you had?
I have really enjoyed being a volunteer graduate forum representative. At Atkins graduates have a voice on what we want on the graduate programme. So I have had the opportunity to meet people across divisions and regional offices, including some very senior people. I've had the opportunity to work in a role that I wouldn't have had on a project and to really learn how the business works.
I've been personally involved in looking at how we can make the graduate programme even better than it is. We want to introduce different ways of training, teach graduates about our bidding process, and introduce a new welcome social to the calendar. Recently the infrastructure graduate forum launched a new event called 'Rapid Start'. This two-day hack-a-thon invited graduates from all Atkins' different regions to come together to help to solve an actual client problem.
What next for you at Atkins?
My plan is to stick with geotechnical engineering so that I can become a technical expert in my field. I know I can do it with all the support that my team at Atkins gives me.