Who are we
Surface Transforms are experts in the development and production of carbon-ceramic materials and the UK's only manufacturer of carbon-ceramic brakes for automotive use. Surface Transforms' unique patented Carbon-Ceramic technology provides the ultimate braking performance for road and track.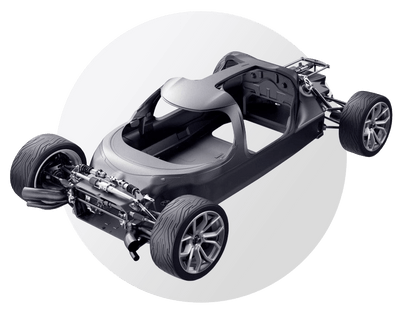 Here at Surface Transforms passion is at the heart of our brand. As a team we refuse to accept the impossible. We know that impossible only means that we haven't found the solution yet. Your role at Surface Transforms is yours to steer – toward opportunities and away from risks.
You'll have the opportunity over time to assume greater levels of responsibility and autonomy as your professional skills develop and we cannot wait to see where you take us and we'll take pride in supporting the future you chose to build at Surface Transforms.
We are looking for a passionate, driven and ambitious Graduate to join our established Engineering Design team, who specialise in designing some of the most exciting and innovative materials technology in our field. Under the guidance of our team of experienced engineers, we'll equip you to undertake detailed design and analysis, defining and translating clients' needs into reality.
What you'll be doing as our Graduate Design and Development Engineer:
Product development – Work within the product design team to support brake component and system design, verification and launch activities.
Design of product using CAD (PTC Creo), release of drawings, document control, drawings change control, stress and thermal analysis of brake components and the system.
Product development – Support product testing activities, arranging product tests, conducting tests, reporting results.
Manage own work – plan, coordinate and deliver projects work to agreed timescale.
Develop engineering tools / calculation sheets / methodologies etc. to support the engineering processes.
Support customer meetings as required.
Support process development activities to improve performance and efficiency.
Project areas you will cover during your programme:
Product testing
Aftermarket products
Project Management
OEM Products
Sales / Manufacturing / Materials
The Skills, Knowledge and Experience you will need as our Graduate Design and Development Engineer:
Engineering calculations
Product design
Analytical thinking
Problem solving
Ability to work under pressure
MS office proficient – Excel / Powerpoint / Word
Report writing
Excellent understanding of fundamental Mechanical Engineering subjects:
Mathematics / mechanics / physics / materials / thermodynamics / fluid dynamics / automation / hydraulics / pneumatics etc.
Demonstrate ability to work in an organised and structure manner.
Team work on projects
Need to have:
Hons degree or higher in Mechanical Engineering/Automotive Engineering/Aeronautical Engineering or similar – 2.1 or higher
Interest in automotive systems / technology.
Nice to have:
Previous experience working on vehicles / brake systems advantageous.
Work experience beneficial.
Brake engineering knowledge
You'll have these personal attributes:
Analytical / conceptual thinking
Problem solving
Leadership
Initiative
Self-improvement
What we'll give you in return:
Attractive salary
25 Days' Annual Leave + Bank holidays
Extra day Annual Leave for your birthday
Extra day Annual Leave for Graduation day
Hybrid working model
Reward and recognition incentives for hard work, dedication and idea generation
Employee appreciation events and celebrations
Bike2Work purchase scheme
A confidential employee assistance helpline covering physical and emotional support
Jobs are promoted internally providing job transfer opportunities
Death in service scheme
Closing date is 31st December 2023, with an anticipated start date of Summer 2024.
In order to be eligible for this opportunity, you need to have the right to work in the UK.
Surface Transforms are an equally opportunities employer. Our mission is to welcome everyone and create inclusive teams. We celebrate difference and encourage everyone to join us, and be themselves at work.
We've signed the Gradcracker feedback pledge.
(This means that we will supply feedback if requested after an interview.)
1e127ede32d8f816eacfb0aed73cee11