About Fujifilm
About the Global Business: Celebrating our 80 year anniversary in 2014, Japan's pioneering photographic film maker, Fujifilm has leveraged its imaging and information technology to become a global presence known for innovation in healthcare, graphic arts, optical devices, highly functional materials and other high technology products.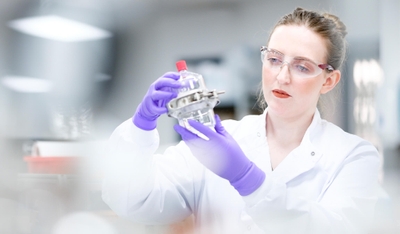 We use leading-edge, proprietary technologies to provide top-quality products and services that contribute to the advancement of culture, science, technology and industry, as well as improved health and environmental protection in society.
Anchored by an open, fair and clear corporate culture and with leading-edge, proprietary technologies, Fujifilm is determined to remain a leading company by boldly taking up the challenge of developing new products and creating new value.
About FujiFilm Locally: Fujifilm Imaging Colorants Ltd (FFIC) is part of Fujifilm Ink Solutions Group which is comprised of 3 companies, based on sites across the UK, USA and India.
FFIC Ltd has a manufacturing site in Grangemouth with an R&D function that supports both manufacturing and commercial projects. Sales and Marketing are provided through Fujifilm Ink Solution Group's dedicated resource.
Job Purpose
This job's purpose is to provide support to chemists in the development and optimisation of novel pigment dispersions for ink jet printing inks, and to carry out agreed experimental work, document, analyse and communicate subsequent results to ensure efficient progression of technical studies and development projects.
Key Result Areas/Deliverables
The job holder responds to either an R&D Senior Team Leader, Team Leader or Senior Chemist and is responsible for the following key deliverables:
To be able to demonstrate a working level of technical skills, knowledge and techniques.
To ensure effective recording and communication of results.
To ensure that all assigned work is delivered in a timely manner and all associated requirements, objectives and targets are fully met.
To contribute to discussions that further both technology and process development
Key Roles and Responsibilities
The job role involves 4 principal tasks: product development, leadership, training and mentorship, and communication and relationship development. The responsibility associated with each is outlined below:
Product Development
Under the direction of their manager, plans and carries out lab work to further development of new products and processes in line with agreed business strategy.
Ensures all assigned work and recording and reporting of data is delivered in a timely manner and all associated requirements, objectives and targets are fully met.
Establishes the root cause of problems and proposes solutions
Identifies new processes and materials
Ensures all activities comply with company health and safety guidelines.
Leadership
Works to defined objectives and seeks guidance where necessary
Contributes to the direction of the team
Ensures high laboratory standards with respect to SHE and quality in all activities.
Contributes to SHE and continuous improvement activities
Training and mentorship
Enthusiastically learns new practical skills.
Guides and positively influences others within the team.
Continues with own personal development
Communication and relationship development
Maintains strong positive relationships within own and wider R&D team.
Builds effective networks of contacts internally.
Key Relationships
The Chemist Intern will maintain strong positive relationships within own and the wider R&D team.
Person Specification
Experienced within a laboratory environment, possessing strong technical knowledge of chemical manufacture and analytical testing processes. Has the capability and self-motivation to assist with the investigation of new ideas in order to help expand the product portfolio in line with business strategy.
Essential
Undergraduate in their penultimate year of study working towards a minimum of a 2:1 in a Chemistry (or Chemistry related) degree.
Have legal authorisation to work in the United Kingdom without company sponsorship (we do not sponsor any type of visa for this placement)
Laboratory experience
Excellent data interrogation and presentation skills
Awareness of SHE and Quality systems
Self-motivated, has great attention to detail, is adaptable and enthusiastic
Desirable
R&D experience and an understanding of product development
Experience within surface coatings industry or similar field
Working knowledge of SHE and Quality systems
Capability Requirements
Rational persuasion – building persuasive arguments based on data and logical thinking.
Analytical Thinking/Critical Information Seeking - Organises data logically, interprets data from a variety of sources and draws logical conclusions Identifies a set of features, parameters, or considerations to take into account, in analysing a situation or making a decision
Ability to work collaboratively and constructively in a dynamic and changing environment.
Thoroughness in completing work and achieving accuracy
Team player with good interpersonal skills and the capability to interact with people at all levels.
Self-motivated, independent and tenacious individual who performs effectively under conditions of heavy workload and change
Duration: 12 months (28th Aug 2023 – 23rd Aug 2024)
We've signed the Gradcracker feedback pledge.
(This means that we will supply feedback if requested after an interview.)
1e127ede32d8f816eacfb0aed73cee11