What we stand for: Leading the decarbonisation of city centres
The time for change is now
Volta Trucks was created because we believed that the commercial vehicle industry could do better.
Our three main aims from the beginning has been to:
Help mitigate the effects the truck industry was having on climate change. Improve the air quality in city centres to ensure a better quality of life. Disrupt the industry in order to make it more inclusive for all.
To achieve these goals, we are doing all we can to accelerate the transition toward electric trucks. But we know these global challenges can't be solved by an individual organisation. We must work together together to make this happen. This is why we have not only teamed up with some industry-leading partners and employed skilful professionals to make our vision a reality, but we are also working collaboratively across sectors, countries and communities to bring others along with us on the journey, including you.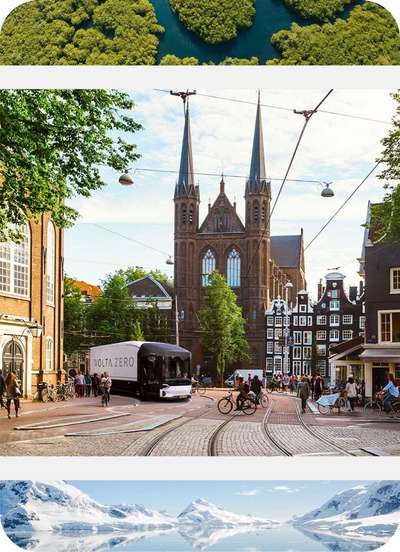 We believe that collaborative spirit will inspire a shift at a greater pace than we could otherwise achieve on our own.
"The market is ready. Across the board, stakeholders are all pushing for electrification. From cargo owners and freight forwarders, to fleet operators and consumers – they all want to see a change and as quick as possible."

Essa Al-Saleh
Chief Executive Officer
Our Vision
To be the leader in zero emission transport, reducing the effects of global warming and making our cities safer, healthier and more pleasant for all.
Our Mission
Delivering full-electric trucks and revolutionising vehicle ownership. Supporting and accelerating industry towards sustainable operations.