Who is MBDA?
We design, produce and maintain the missile systems that help to protect our skies, land and seas, ensuring that our armed forces hold the advantage in any situation.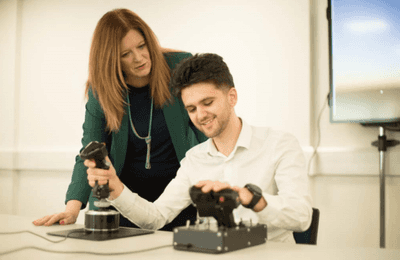 We are regarded as one of the most trusted suppliers of defence solutions in Europe, we have a relationship with the UK military spanning back over 70 years.

All of our employees play a part in delivering a more secure tomorrow, whether this is designing a future concept for the British Army, managing the procurement of a missile component or using software expertise to integrate one of our products on to the newest fighter yet.
Define your career with us.
This isn't your regular 9-5 job. This is making a difference, making history and making the future.

We are a multi-national group with more than 11,500 employees working together across France, Germany, Italy, Spain and the United Kingdom. We also have offices set up in the USA. This creates fantastic opportunities for travel and possibly a placement abroad.

Our careers are filled with character, reward and purpose. We provide the platform for a diverse and successful career where everyone has the opportunity to contribute, grow and succeed.
Together. For the future of defence.
We offer a wide range of programmes for university students in both engineering and business areas. We are committed to building the future of defence through the next generation and because of this, you will receive incredible training, development and support.

Graduate Programmes – During our 2 year schemes, you will move around the business in rotational placements. This provides you with a substantial platform to develop by gaining valuable experience, learning from the best minds in industry and creating a strong network. You will also follow a tailored training programme including bespoke courses and support with Chartership.

Undergraduate Placements – We offer 10 month placements where you can focus on one specialist area or split your time into two placements. You will be able to see where your career could take you as you get direct access to real projects, become a valued member of the team and utilise your skills learnt at university. It is also likely you will receive a graduate offer for when you complete your degree.

Summer Placements – These programmes are available to students any stage of your degree. They run for 10 – 12 weeks every summer allowing you to experience the real world of work and put your skills learnt at university into action. You can return to MBDA to progress your career with additional summer placements or take a look at our other programmes.
Degree Apprenticeships – Discover our business, develop your skills, build a network and earn the qualifications you need to succeed. Our four-year apprenticeship schemes provide you with a platform to study, work on exciting projects and make a valuable impact with the work you do, all while earning a salary. Our apprenticeships focus on business, engineering, software and manufacturing.
As part of the programme, you'll move around the company in rotational placements, where you will gain a wider understanding of what we do, build a network within the organisation and define your future career with us. There will be plenty of opportunities for you to develop. You'll work at one of our MBDA sites and study for your degree via day release at university.
We are a member of the Gradcracker Five-Year Club
We have been a Gradcracker advertiser for at least five years. We recruit regularly and should still be doing so whenever it is time for you to apply for placements or graduate positions - make sure that you Follow us to be alerted to any of our new opportunities.