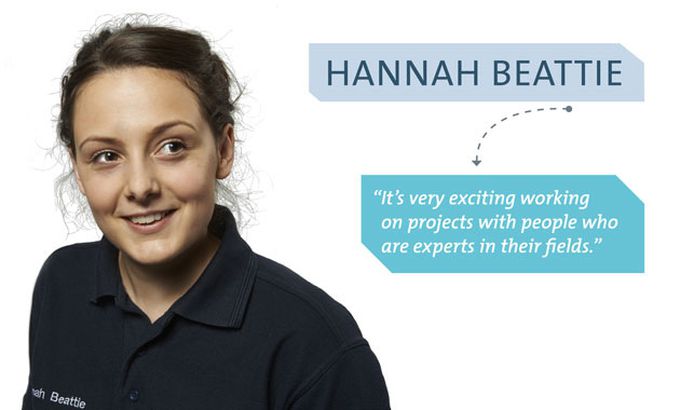 Hannah studied Mechanical and Manufacturing Engineering at Queens University Belfast
THE WORK SO FAR
I started off doing a 10-week summer placement in June. After completing it, I was given the opportunity to stay on and complete a further one-year placement. I'm based in Barnoldswick, where we make fan blades. We support the shop floor and make sure that all processes are in control and compliant with the relevant standards and specs. We're responsible for process compliance and control, trouble-shooting, detailed investigations, and non-conformance assessment.
During my 10-week summer placement I worked on a variety of small projects. One of them was a DOE (design of experiment), to optimise a weekly tensile strength check that's carried out by the laboratory. I was also involved in process excellence and designed a system that captures all the daily, weekly and monthly checks that the laboratory carries out, so they can see what checks need doing and when.
The project I'm currently working on involves process improvement. It has given me invaluable experience using global standards and specs and working on process improvement.
MOST EXCITING ASPECT
The manufacturing processes we use to make the fan blades are extremely sophisticated and I feel very privileged to have been given the opportunity to learn about and witness them. It's very exciting working on projects with people who are experts in their fields and they value you as a member of the project group and treat you as an equal. I love being in meetings and having in-depth discussions with engineers - and being able to ask questions as well as put my own opinions across.
BEST THING ABOUT ROLLS-ROYCE
Working as part of a team is great - the lab is very much a tight knit team and I've been so warmly welcomed into it. I'm definitely a valued member of our team.
The projects I work on are important projects that are useful to the lab. They're projects that any other full-time laboratory personnel would have been doing, had I not been there. This is very important to me, as it keeps you motivated and gives you satisfaction to know you have benefited the lab and therefore the company.
The projects are challenging. I was given a lot of responsibility and had to manage my projects myself, attend project meetings and meet deadlines.
SKILLS AND EXPERIENCE GAINED
I've gained practical skills through hands-on metallurgical preparation, inspection and manufacturing test pieces. I've also developed my time-keeping and organisational skills through managing my projects.
I have gained experience in responsibility through being relied upon as part of the team. Simply being on site and being able to see all of the different manufacturing processes has helped me put what I learnt at university into context and has helped my understanding of engineering as a whole - as has being part of a team and liasing with different departments, from the shop floor to outside contractors.