About you and your programme
Here at the Defence Science and Technology Laboratory (Dstl) we push the boundaries of science to support the defence, security, and prosperity of the UK. Our world-class team support our customers including the Ministry of Defence and explore everything from AI and cyber to homeland security and space systems. We'd love to tell you exactly what we do here because it's amazing. But a lot of it is top secret, so we can't.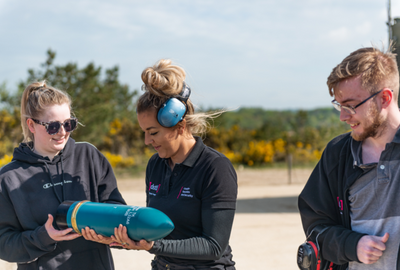 However, there is a lot we can tell you.
Joining as a graduate, you'll solve the unsolvable alongside some of the smartest people you'll ever meet. Whatever part of Dstl you join, you'll become part of unique and fascinatingly complex projects that make a difference – protecting people and saving lives on the frontline, across the UK and all around the world. And you'll discover a wonderfully collaborative and supportive culture where everyone pulls together to make our remarkable work happen.
We're also an incredible place to learn. The work you do and the people you do it with will expand your knowledge very single day. Your training and development will be encouraged. And you'll be supported to gain the technical and professional qualifications you need to excel.
We're open to anyone with an enquiring, creative mind and, ideally, a background in a science, maths, technology, or engineering subject. So, if you're ready to get involved in projects you just won't find anywhere else (and probably won't be able to tell anyone about) come and start your career with us.
We are a member of the Gradcracker Five-Year Club
We have been a Gradcracker advertiser for at least five years. We recruit regularly and should still be doing so whenever it is time for you to apply for placements or graduate positions - make sure that you Follow us to be alerted to any of our new opportunities.