After completing a degree in Electronic Engineering at the University of Southampton, I joined Britannia Royal Naval College in 2011. On completion of of my initial officer training, I spent 10 weeks on a Scandinavian deployment on HMS Bulwark, where I decided to volunteer for the Submarine Service. I then began the varied training programme in order to prepare for my first assignment to a submarine, this involved: general weapon engineering training, initial submarine officer training and an initial nuclear course. I was then appointed to HMS ASTUTE as the Assistant Weapon Engineering Officer (AWEO) for 9 months, where we conducted a deployment to America. During this time I completed my submarine qualification and earned my 'dolphins', which is a significant achievement in any submariner's career. As an Officer this also qualifies you to be in charge of the Submarine in Harbour. Throughout the course of this duty I held much more responsibility than any of my civilian counterparts from University, which assured me I had made the right decision in joining the Royal Navy. On completing my AWEOs appointment I conducted further training at the Royal Navy Submarine School to prepare me for my next role as the Deputy Weapon Engineering Officer (DWEO) of HMS ARTFUL.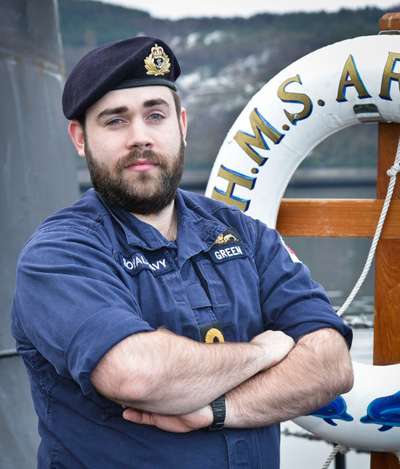 I joined HMS ARTFUL when she was still being constructed by BAE in Barrow-in-Furness, and one of my main aims was to ensure the Weapon Engineering department's equipment and personnel were prepared to go to sea for the very first time. However, the requirement to re-think many ways in which Submarines have previously operated due to a new cutting edge combat system made this aim much more challenging. Once the submarine was at sea we conducted trials to ensure the submarine was fully capable. During this time I was not only heavily involved in the Weapon Engineering department, but also involved in more general duties including periscope watchkeeping and leading a small team to drive and control the submarine at sea (this additional tasking is normal in submarines). This role was the most varied, challenging and rewarding period of my career so far and thoroughly enjoyable, particularly as I was fortunate enough to overcome a wide range of challenges.
I left ARTFUL in 2016 and I am now based at MOD Abbeywood in Bristol, the headquarters for Defence Equipment & Support. Here I am responsible for the day-to-day management of the Combat Systems Programme into Astute Build Submarines. This role has put me in a completely new environment where I have been managing a vast array of stakeholders, managing multi-million pound financial forecasts and have been able to make a real difference to the shape of future submarine development. I expect to be in this role for a couple of years before looking forward to another new and undoubtedly unique challenge.
In summary, since joining the RN 6 years ago I have been fortunate to have a wide range of experiences, from witnessing the northern lights in a Norwegian Fjord, to firing and guiding torpedoes from a nuclear submarine, to playing squash for the Royal Navy in Gibraltar and working with some of the most intelligent, loyal, and humorous people I have ever met. I would whole heartedly recommend it as a career for any engineer who wants to do more than just engineering.