I graduated in 2014 from Newcastle University with an Honours degree in Electrical and Electronic Engineering. During my final year I thought about what I wanted from a career in engineering. Industry had many things to offer but ultimately it was only the Royal Navy that could offer a fascinating opportunity to work with advanced military systems whilst travelling the world and confronting challenges that couldn't be found elsewhere. Alongside this, the chance of pursuing a range of both competitive and recreational activities as part of my paid working routine was very attractive.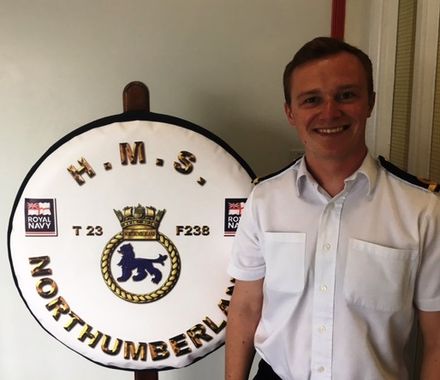 As I began my training at Britannia Royal Naval College the idea of leading and managing a team of up to 40 people was a daunting prospect. However, after two years of a combination of practical and theoretical training it became a realistic goal. Training begins with an intensive introduction to military life including extensive physical training, team building and leadership training. It then moves onto building a foundation of maritime knowledge where I studied topics such as Naval History, boat handling and navigation. Once Initial Officer Training is complete Weapons Engineers continue their specialist training at HMS Collingwood, Fareham, consisting of a combination of theoretical lectures, laboratory classes and team projects. I also spent time on board three different ships to broaden my understanding and to put some of what I had learnt into practice.
As Deputy Weapon Engineering Officer (DWEO) I am second in command of a team of 40. I am responsible for ensuring that all of the Ship's weapons, sensors and communications are running at their optimum performance and that all systems are available as they are required. As an Engineering Officer I look at the equipment on the system level, interrogating and analysing system performance. Operation at sea, away from engineering support and with limited equipment presents a unique engineering challenge. Due to the range of equipment that comes under my management, problems that I could encounter and be required to solve on a daily basis can by hugely varied from satellite connectivity to the 4.5" main gun. I joined HMS Northumberland whilst she is deep in an extensive refit; this has offered the challenge of working closely with industry partners to deliver a multi-million pound project within strict time constraints. As the ship emerges from refit I will be responsible for co-ordinating and running trials on the Ship's systems in order to assess their capability and ensure the ship is ready to re-enter the Fleet and undertake tasking as required.
Although the work is challenging, the rewards and opportunities are huge. Throughout my short career so far I have had the opportunity to participate in a range of sports and activities, including 8 days competing at a world sailing championship in Italy, participation in the Royal Navy Ski Championships in France and surfing in Canada. This is only a small selection of activities on offer and I fully expect to experience more in the coming years.