In 2007 I started a 4 year MEng in Mechanical Engineering and Mechatronics at the University of Southampton; keen to be involved in the world of graduate engineering I applied to a number of commercial engineering companies for summer placements that would lead to the possibility of a follow-on graduate job. After much research, a career as an Engineering Officer in the Royal Navy is something that really appealed to me. I liked the idea of being both a professional mariner and engineer with a clear path to Chartered Engineer status, as well as the opportunity to travel, job variety within a career and to put the fundamentals of what I was learning at university into practical in high tempo situations.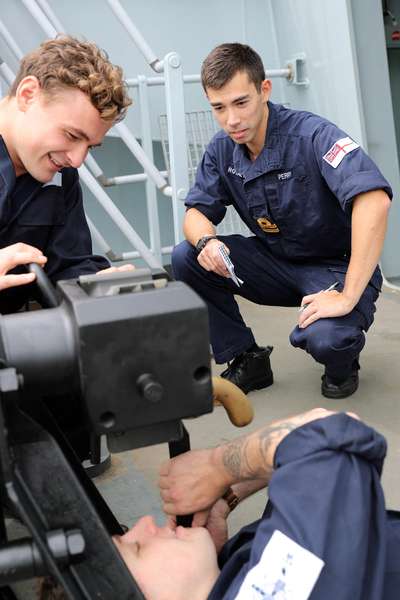 After passing the Admiralty Interview Board (AIB) I joined the Defence Technical Undergraduate Scheme (DTUS) in September 2008. During this time I had paid summer placements in Naval Dockyards, visited serving Royal Navy Warships and generally got a good feel for life in the Royal Navy. I also had the opportunity to learn new skills Adventurous Training. I qualified as a RYA Day Skipper, Rock Climbing Leader and did my Mountain Leader Training. I ran and participated in expeditions abroad, developing organisational and leadership skills; these include sailing yachts around the Mediterranean Sea, climbing expeditions to Jersey and the Alps as well as dozens of weekends spent sailing and mountaineering in the UK.
I joined Britannia Royal Navy College, Dartmouth in September 2011 for Phase 1 training which consists of a comprehensive but intense training package designed to develop those that have displayed potential at the AIB into fully commissioned Naval Officers. The training covers everything you need to know to succeed at sea as an Officer. As part of the training you are embedded in a serving warship; I joined HMS BULWARK and spent 5 weeks sailing around the Baltic Sea and Arctic Circle. The ship visited Copenhagen, Germany, Poland and Norway. For me, the highlight was seeing the Northern Lights almost by accident on the upper deck when anchored off the coast of Norway. On passing out of Dartmouth in April 2012 I joined a shore training establishment, HMS Collingwood in Fareham to start Phase 2 training.
Phase 2 training is what takes you from a generic Naval Officer to a Weapon Engineer Officer. This specialist training lasts about 18 months. The first few months are a mix of classroom-based learning, lab practicals and exams on the underpinning Weapon Engineering subjects. It covers everything from Radar Theory and Explosives to Gyroscopes and Aerodynamics. After which you join a Ship for 4 months as a Junior Weapon Engineer Officer (JWEO), you are given a task book to complete and a lot of autonomy; your task is to understand not only what the ship does but how it operates and functions and your place in it as a Young Officer. I joined HMS KENT, a Type 23 Frigate, which at the time was the Fleet Ready Escort, the UK's on-call ship to deal with any emergent tasking or crisis, during which we were activated several times.
After further management training back at HMS Collingwood I joined another Type 23 Frigate, HMS LANCASTER as the Assistant Weapon Engineer Officer (AWEO), which deployed to the Caribbean on Atlantic Patrol Tasking (North). As an AWEO you are understudying the Deputy Weapon Engineer Officer (DWEO) which will be your next appointment and your first compliment job (i.e. first job when not under training). Prior to deploying I ran the ammunition embarkation serial, bringing onboard and storing the ship's missiles, torpedoes and small arm rounds for the 6 month deployment.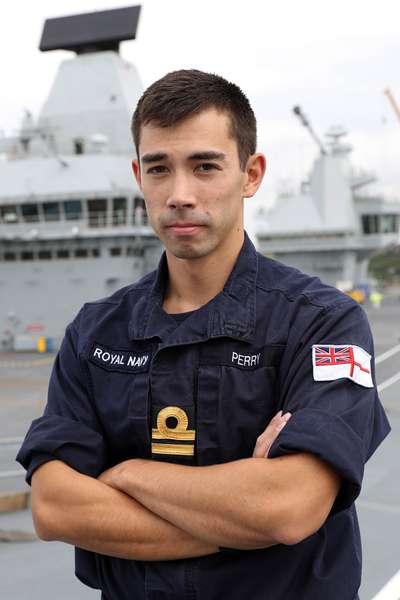 The deployment to the Caribbean was varied and involved anti-narcotic operations, being on standby to deal with any humanitarian crisis in the region and providing Maritime Security and reassurance to British Overseas Territories. During my time onboard, the Ship was involved in several drugs busts, involving a high speed pursuit, utilising a Royal Marine Sniper from the Ship's Lynx helicopter to shoot out the engines of a drug smuggling speed boat carrying a haul of cocaine with a street value of £100 million. For me the highlight to the deployment was visiting Montserrat, seeing an active volcano and getting a police escort into the exclusion zone to visit the abandoned ruins of Plymouth which is the former capital of the island; it is usually out of bounds to everyone but the local police and scientists. During the few months I was onboard I visited 8 different ports, most of which were Caribbean Islands. I left HMS LANCASTER in Jamaica, after having a week's leave I flew back to the UK to start the last part of ship-specific training at HMS Collingwood.
In November 2013 I rejoined HMS KENT as the DWEO. As a Deputy Head of a Department the day-to-day job involves everything from planning serials and trials in the Ship's Programme, managing your department personnel to checking equipment performance. As a graduate engineer, the learning curve is steep and the job challenging. As a 24 year old I was managing a 45 strong team of experienced engineers, some of which had been serving longer than I had been alive! There are also many secondary roles you have onboard which gives you a breadth of understanding across the Ship. These include being an 'Officer of the Day' where you are given charge of the Ship for a 24 hour period when it is alongside and manage everything from safe systems of work, ceremonial duties to command and control of onboard emergencies running the Ship's Fire Fighting and Armed Response Teams. As an Engineer Officer it is also likely that you will be one of the Ship's Boarding Officers and could be searching vessels smuggling anything from weapons, drugs or involved in human trafficking. There are other less glamorous but no less important or rewarding secondary roles such as IT Security Officer, Visit Liaison Officer, Chemical and Nuclear Protection Officer and Delegated Explosive Responsible Officer but it is all part of the package of life on a Warship.
For me, it was a varied two year appointment and was split between UK Tasking and a Deployment to the Persian Gulf. Prior to deploying the bulk of your time as DWEO is spent planning and conducting trials on Weapon Engineer Equipment, including live firing assessments of the Ship's missile and radar systems and briefing the Commanding Officer on the outcome to assure him that the Ship's Combat System is performing optimally. Furthermore, prior to deploying, every ship undergoes an intensive war fighting training package onboard. At action stations the DWEO is in charge of the Weapon Repair Organisation which is all about fighting the 'internal battle', managing repair teams and co-ordinating the weapon repair effort throughout the Ship to restore lost capability to Command.
During the deployment the Persian Gulf, we stopped at several places in the Mediterranean and through the Suez Canal into the Joint Operating Area. We were tasked with protecting US and French Aircraft Carriers as part of Operation Inherent Resolve conducting operations against ISIS. We were also part of Combined Task Force 150 and 151 conducting anti-piracy and maritime security boarding operations, utilising our onboard drone 'Scan Eagle' to search and track targets of interest. The highlight of the deployment for me was visiting Petra in Jordan (where Raiders of the Lost Ark was filmed). Visiting Djibouti in North Africa was also a really eye-opening experience especially as it is not somewhere I would ordinarily visit on holiday but a really interesting place none the less.
In October 2015 I joined HMS QUEEN ELIZABETH in build as the Combat Systems Officer, leading and managing a sub-department of around 40 engineers. The work has been varied and it has been great to see a ship of its size steadily come to life. A lot of the work has been focused on coming up with innovative solutions on how we operate this new platform with the increased amount of automation onboard and how this can be reconciled with current naval policy. Moreover I have had exposure to commercial elements of the job working alongside industrial partners as part of the Aircraft Carrier Alliance. The ship is incredibly complex and due to level of integration of the systems onboard there has been a lot to learn, but it has been exciting to be part of something that will be the core of UK defence for the next 50 years. I can say being an 'Officer of the Day' onboard HMS QUEEN ELIZABETH is a daunting prospect as you are put in charge of a £3 billion government asset for the day and the safety and welfare of over 700 sailors onboard; however with the training and experience I have had, I simply see this as routine business for a Naval Officer.
This summer I will be applying for my Chartered Engineer Accreditation (CEng) and through the Royal Navy's streamlined accreditation path; I should achieve CEng status this calendar year, aged 28. Furthermore my annual professional accreditation fees will be paid for by the Navy. In September 2017 I am due to start a fully funded MSc at Shrivenham Defence College which will lead to a specialist follow-on appointment.
Looking back at my experiences over the past six years in the Navy; I would say if you are a passionate engineer and can see yourself taking a leading role in a highly professional team and also want a varied but challenging career that is continually developing and investing in you, a career as an Engineering Officer in the Royal Navy is one that I would wholly recommend.