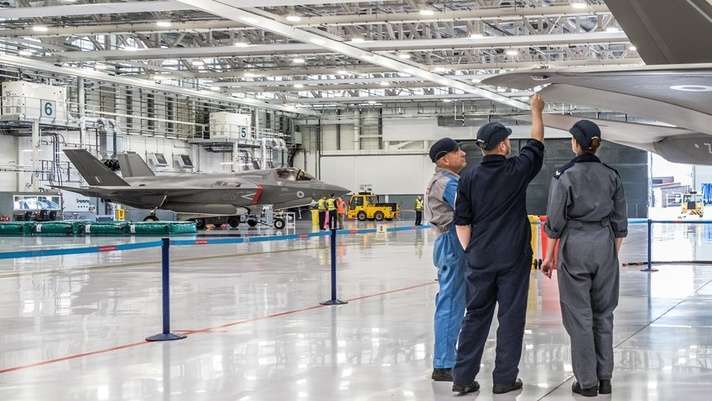 BAE Systems will lead a two year agreement to bring enhanced maintenance and training services for the UK F-35 fleet.
The F-35 Joint Program Office (JPO) has agreed to a contractual agreement with Lockheed Martin to support operations at RAF Marham, with BAE Systems assigned as the on-site lead for industry. In this role, BAE Systems will lead a 170+ strong industry team to execute the two-year agreement valued at ~$101m (~ £76m) to enhance maintenance, mission planning and training services for the UK's F-35 Lightning fleet based in Norfolk.

The contract extends on the existing sustainment service at RAF Marham and will provide aircraft upgrades, maintenance, synthetic and maintainer training on-base, along with the ability to customise specialist pilot equipment at one of the first Pilot Fit Facilities outside of the United States.

The training and maintenance support at RAF Marham is crucial in ensuring the UK F-35 jets are ready and available, as they prepare for their first operational deployment aboard HMS QUEEN ELIZABETH this year as part of the UK Carrier Strike Group. Combining advanced destroyers, frigates, helicopters, submarines and fifth generation fighter jets, the Carrier Strike Group will be capable of conducting a range of important missions, from maritime security to disaster relief.
The UK F-35 jets are maintained by a unique collaboration between Lockheed Martin, BAE Systems, Pratt & Whitney and Rolls-Royce as part of Lightning Team UK. Together, the team works jointly with the Royal Navy and Royal Air Force to achieve a 'whole force' approach in support of the UK's F-35 fleet.

In November, RAF Marham welcomed the latest three F-35 jets, taking the UK Lightning Force up to 21.

Around the world, there are now more than 610 F-35 aircraft operating from 26 bases and collectively, the programme has achieved more than 355,000 flying hours.