Highlighting our commitment to net zero, over the last 15 years BAE Systems has reduced carbon emissions at Portsmouth Naval Base from c.100,000 tonnes/year to c.35,000 tonnes/year.
As an organisation, we are constantly striving to reduce energy usage, both across our own estate and those of our customers and their platforms. Playing our part to meet the UK net zero target requires a radical rethink of the way we generate, store, use and harvest power. From aircraft carriers to entire dockyards, this is no easy task, but innovative thinking and novel technology will help achieve significant carbon reductions.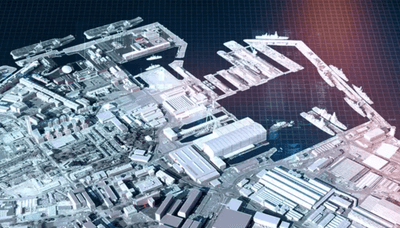 Over the past ten years we have helped the Royal Navy to halve their energy consumption. We have installed 500KW of Photo-voltaic roofing, 3MWh battery storage, 13.5MW combined heat and power generation, alongside a number of targeted energy reduction projects and initiatives. The reductions in energy usage at Portsmouth Naval Base are seen as good practice across both our own company and our customers, as we have hosted several groups of UK MOD visitors, including from outside the Royal Navy, to share our experiences.
We are currently working to improve the way data is used to control and monitor estate operations and inform decision-making. We overlaid three-dimensional geospatial models of the dockyard with various sources of estate and asset information to provide powerful visualisation tools, easy access to information and analytics dashboards. Commercial off-the-shelf sensors have been integrated to tag and monitor on-site assets like cranes, buses and pumps. This data provides a single point of truth from which we can track electrical performance, maintenance requirements and power usage across a site and so allows us to better locate charging stations and optimise operations for maximum efficiency. Onboard too we are seeing changes which dramatically reduce energy consumption.
By swapping out fluorescent lighting for 27,000 LED alternatives aboard Queen Elizabeth Carrier, we were able to save energy usage from more than just the bulbs; the resultant reduction in heat generated cut the air conditioning usage by a massive 10-15%. Of course, such simple changes are not without considerable challenge. We had to ensure that the LED lighting alternative met the lux levels and colour spectra required for a complex vessel operating under the most demanding conditions.
We are also seeking to reduce energy usage in propulsion and heat management, for both current and future vessels. Developed with the University of Southampton, our unique Ship Energy Assessment Software (SEAS) is the first third-party application licensed to the Royal Navy for Project Nelson, its project to make data more consistent and accessible – including to third-party developers who are new to the defence sector. Already proven in trials on commercial ships, SEAS is a software application that uses algorithms to monitor ships' environment and performance to profile the best speed through water to optimise engine performance, reduce energy consumption, reduce journey time and avoid fouling the hull. Our recent trials on a Royal Navy Type 45 demonstrated up to a 28% fuel saving when using the technology.