About GE
There is no better place to start your professional career than with one of the early talent opportunities available in GE in the UK. GE early talent recruits solve real-world challenges, sometimes spurring innovations that change the way we do business.
At GE, we understand how important it is to get exposure, learn, and develop early in your career. With our internships, apprenticeships, co-ops, and rotational development programmes, you will have the opportunity to take your area of study forward for experience and further discovery. Collaborate on exciting projects, not only with talented peers, but with top leaders in your field.
Aviation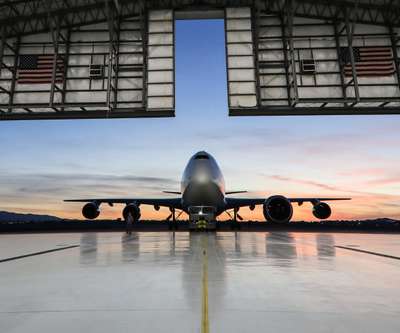 GE Aviation is a world-leading provider of commercial, military and business and general aviation jet and turboprop engines and components, along with avionics, electrical power and mechanical systems for aircraft.
At GE Aviation, we invent the future of flight, lift people up, and bring them home safely. Whether we're manufacturing components for our GE9X engines, driving innovation in fuel and noise reduction, or unlocking new opportunities to grow and deliver more productivity, the GE Aviation teams are dedicated to moving the aerospace industry forward.
If you join us, you'll find yourself in a dynamic environment where our ongoing, substantial investment in research and development keeps us looking ahead. At GE Aviation, developing people is embedded in our culture and integral to our growth. Here you'll work collaboratively and cross-functionally with the highest calibre talent, utilising cutting-edge technology and processes. If you're passionate about generating advances in aviation to solve some of the world's toughest problems and are looking for a career rich with challenges and unlimited opportunities for growth and advancement, then join GE Aviation as we rise to the challenge of building a world that works.
GE Aviation recruits c.100 year-long placements across its multiple sites across the UK, including Cardiff, Nantgarw in Wales, Prestwick in Scotland, Cheltenham and Dowty in Gloucestershire, Feltham, West London and our OC Robotics business in Bristol.
GE Aviation also recruits graduates into our Leadership Programmes; Edison for Engineering students, Operations Management Leadership Progamme (OMLP) for students interested in a careers in Supply Chain, and our Commercial Leadership Programme (CLP) for those interested in Sales & Marketing.
Power Conversion
GE's Power Conversion is at the heart of electrifying tomorrow's energy.
GE Power Conversion applies the science and systems of power conversion to help drive the electric transformation of the world's energy infrastructure. Designing and delivering advanced motor, drive and control technologies that evolve today's industrial processes for a cleaner, more productive future, it serves sectors such as energy, marine, industry and all related services.
Oil & Gas: improving operational performance, asset availability, and system optimisation.
Power & Utilities: Stabilising process operations and maximising productivity by managing dynamic voltage support and fast-acting reactive power compensation.
Marine: Connecting the physical and digital worlds, GE helps power, propel, position and predict the marine industry for operational excellence.
Mining: Helping you to extract maximum value from operations - controlling costs and fixing the productivity inefficiencies of the past decade.
Hydro: Improving production and storage flexibility, operating efficiency, and grid compatibility.
Research & Test Systems: Adaptable, robust and dynamic test systems for efficient and reliable equipment operations across the industries.
Manufacturing industries: Full-scope partner for electrification and automation solutions based on efficient, standardised components.
Our Graduate Engineering Training Programme is the primary path for university graduates into GE Power Conversion and will provide you with the opportunity to build skills in critical areas of the company and to apply your capabilities to projects with impact.
If you're interested in an opportunity rich with challenges and unlimited opportunities for growth and development, then join GE.
Today, more than ever, the world needs great minds. What the world needs...is you.
We are a member of the Gradcracker Five-Year Club
We have been a Gradcracker advertiser for at least five years. We recruit regularly and should still be doing so whenever it is time for you to apply for placements or graduate positions - make sure that you Follow us to be alerted to any of our new opportunities.
Follow
Following