About us
We're the Environment Agency. We protect and improve the environment and make it a better place for people and wildlife. Adapting to climate change is integral to everything we do. We operate at the place where environmental change has its greatest impact on people's lives. We work closely with a wide range of partners to make sure we are reducing the risk from flooding to communities, there is enough water for people and wildlife; protect and improve air, land and water quality and apply the environmental standards within which industry can operate.
How we do things in the Environment Agency is as important as what we do. We seek to be an open, outward looking, positive organisation. We believe none of us is as good as all of us: "embrace difference, include everyone" is part of our DNA.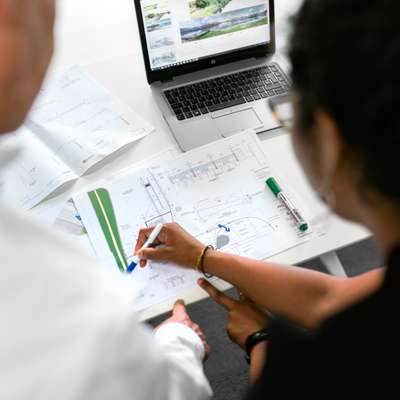 Civil Engineering with the Environment Agency
Flooding has a dramatic – sometimes life-changing - impact on people, properties and businesses. In England, some 5 million properties – 1 in 6, are at risk of flooding from rivers, surface water or the sea. That's why we're constantly working to reduce the risks to people, households and businesses from flooding and help people to improve, protect, value and enjoy their local environment. And it's why a civil engineering career with the Environment Agency is so challenging, diverse, exciting and rewarding. We are looking for Civil Engineering graduates to become part of our team bringing innovation and passion to make a difference and be part of the solution and contributing to our challenge of becoming a carbon net zero organisation by 2030.
Our four to five year national engineering graduate programme focuses on four vital areas: technical, commercial, professional and management. It's a structured, well supported programme and one that will see you take on a mix of internal and external assignments, building up skills in everything from asset management to project feasibility, planning and design to project management and site supervision and incident response. Typically, you'll spend three months to a year on each assignment, giving you plenty of time to get to grips with the real issues, gain the necessary experience, making each project your own.
We'll provide full training under agreement with the Institution of Civil Engineers (ICE). Once you've gained the full range of relevant skills, attributes and capabilities, you can complete your chartered professional review. Pass and you'll be a flood and coastal risk engineer with Chartered Engineer (CEng) status. From there you can apply for a wide range of suitable professionally qualified roles within the Environment Agency.
About you
To join the graduate programme you'll need to be a graduate with a MEng degree in Civil Engineering (or equivalent). It's also essential that your degree is accredited by the Joint Board of Moderators (JBM) as satisfying the academic requirements of becoming a Chartered Engineer with the ICE.
Keen to learn, you'll be ready to make the most of all the assignments and opportunities that will come your way developing a range of skills including leadership, wider people skills, problem solving and many more.
Of course, you'll have our full support throughout: as well as being supported by your team leader and a supervising civil engineer who'll oversee your work, you'll have a delegated engineer to help you on a day-to-day basis. These people will share their extensive knowledge and experience, giving you every opportunity to become the best flood and coastal risk engineer you can be.
We offer a competitive package with a range of benefits and the opportunity to make a real difference to the environment In addition, we offer flexi-time and consider flexible working patterns, to helping you achieve a positive work-life balance. We are fully committed to being an inclusive employer and ensuring equal opportunities. We are keen to have a workforce to reflect the full diversity of the communities we serve and welcome applications from individuals of any age, gender or background.
Additional Information
If you have any questions about the scheme, please feel free to email gradengineers@environment-agency.gov.uk. Please state in the subject title of your email the title of the post you are enquiring about.
Assessment centres will take place in June/July 2021. This will be initially online interviews with possible second interviews at a location local to the advertised vacancies in line with government COVID restrictions at the time.
We expect successful candidates to start in September 2021 (other start dates maybe considered).
Diversity: it's in our nature
We've signed the Gradcracker feedback pledge.
(This means that we will supply feedback if requested after an interview.)
1e127ede32d8f816eacfb0aed73cee11