People are our greatest asset
The development and career management of our people is critical to the success and growth of Alstom. Talent Management refers to our ability to identify and develop the full potential of our people, foster engagement and boost performance to reach Alstom's goals.
Talent Management helps the organisation to:
Attract the talents and competencies needed to achieve our business strategy, through external recruitment and internal mobility
Better know, promote and reward our people and internal talents through our People Management Cycle
Provide the development tools and Learning offering to develop and grow our talents
Contribute to disseminate a Leadership culture in support of the overall Alstom Strategy.
Our ambition in diversity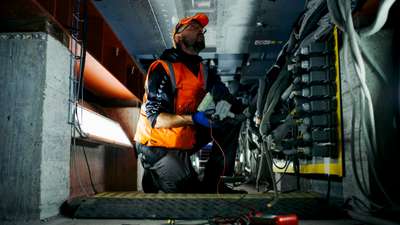 Alstom are in a constantly growing global market with infinite potential and we will truly be the world reference for rail transport also in the future. Internally, this movement will bring about important changes in our culture and our ways of working.
Agile, Inclusive and Responsible
We are defined by three strong values and very strict ethical rules. We cannot be efficient if we do not work as a team. We do not deserve to have customers if we are not worthy of their trust.
To implement our strategy, we must also reflect the diversity, nationality and culture of our customers and the passengers who use our trains. Diverse nationalities, cultures and mindsets make for a stronger workforce and a diverse internal culture is fundamental for fostering efficiency.
Our HR policy is founded on key concepts that include equal opportunity, respect for diversity, dialogue, as well as health and safety. Equal opportunity begins with equal pay for equal work among the women and men employed by Alstom. Alstom also works actively to bring the disabled into the workforce, complying with applicable legislation in the countries where it does business.
Learning at Alstom
Learning is a cornerstone of Alstom's people care strategy. People are at the heart of our business, that's why developing their potential and competencies through learning experiences and career opportunities is a key factor of our global success.
We believe that there is a positive and significant relationship between motivation and performance, and that having opportunities to learn is part of this motivation.
Developing all our employees is part of our "People Management cycle" which guides our managers in empowering their teams. For each employee a training plan is designed annually with his/her manager and HR and put into action throughout the year.
What Alstom offers to contribute to these development plans are:
High quality learning and development programmes
Various ways of learning approaches
Support to employees empowerment and autonomy in their development through specific actions like mentoring or coaching.