At Airbus, we believe that it's not just what we make, but how we make it that counts. We are convinced that our customers, investors and the communities we are working with not only ask us to create products, jobs and shareholder returns, but to promote responsible, sustainable and inclusive business practices and act with integrity.
Principles in practice
We conduct our business ethically, based on Airbus values, and in compliance with all laws and regulations. Furthermore, we strive for a culture of integrity in our people, partners and suppliers. To this end, we have established a dedicated Ethics & Compliance programme and organisation, to ensure that ethical and compliant behaviour is deeply embedded throughout the company, supported by our Code of Conduct and Integrity Principles. We have an enhanced anti-corruption policy and have conducted more than 160,000 awareness trainings in the past three years alone.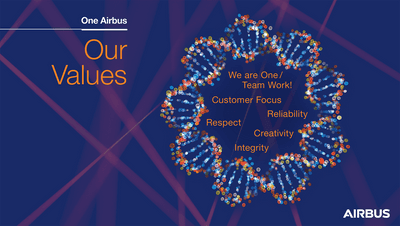 What we stand for
Six core values lie at the heart of Airbus, and these help us define not just "what we do" but "how we do it". They are our foundation and help our employees identify with our company. Nearly 55,000 Airbus employees participated in defining our values: We are one/teamwork, integrity, customer focus, reliability, respect and creativity.
An inclusive culture
More than 140 nationalities make up the Airbus workforce and over 20 languages are spoken in our company – reflecting the diversity of the world we live in and customers we serve. Airbus activities notably promote gender balance, social equality, intergenerational collaboration, while ensuring an inclusive environment for everyone. Take a look at the video that promotes I&D below and at all our different faces here.
International Women's Day: the Airbus commitment to inclusion and diversity
The company supports the UN Women's Empowerment Principles and the UN Standards of Conduct for Business for lesbian, gay, bi, trans and intersex people, and has developed the GEDC Airbus Diversity Award, which aims to highlight projects that have encouraged more young people of all profiles and backgrounds to study and succeed in engineering. Airbus also fosters engagement and a strong leadership culture.
At Airbus, it's everyone's responsibility to bring our inclusive culture to life, and an Employee Resource Group (ERG) called Balance for Business is supporting an even more diverse workplace.