About Raytheon UK
With facilities in Broughton, Waddington, Glenrothes, Harlow, Gloucester, Manchester and a presence across customer sites together with remote working practices. Raytheon UK is invested in the British workforce and the development of UK technology. Across the country Raytheon UK employs over 2,000 people and supports 8,000 jobs.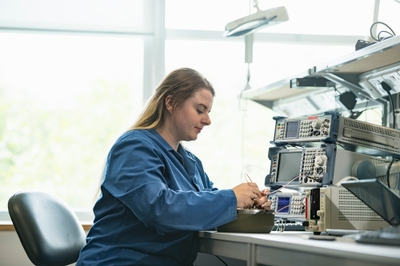 As a prime contractor and major supplier to the UK Ministry of Defence, Raytheon continues to invest in research and development, supporting innovation and technological advances across its core mission areas Weapons & Sensors, and Cyber, Space & Training.
Raytheon UK is a landed company, part of the Raytheon Technologies organisation and sits within the Raytheon Intelligence & Space business.
About Raytheon Technologies
Raytheon Technologies Corporation is an aerospace and defence company that provides advanced systems and services for commercial, military and government customers worldwide. It comprises four industry-leading businesses – Collins Aerospace Systems, Pratt & Whitney, Raytheon Intelligence & Space and Raytheon Missiles & Defence.
Its 195,000 employees enable the company to operate at the edge of known science as they imagine and deliver solutions that push the boundaries in quantum physics, electric propulsion, directed energy, hypersonics, avionics and cyber security. The company, formed in 2020 through the combination of Raytheon Company and the United Technologies Corporation aerospace businesses, is headquartered in Waltham, Massachusetts.
What is the Graduate Development Programme (GDP)?
The Graduate Development Programme (GDP) is a structured training programme our class of graduates on the GDP complete over the course of 2 years in addition to their main role. We work in collaboration with an external supplier, HR and functional experts to deliver a range of training from improving business skills e.g. managing projects, business strategy, company presentation skills etc to team building activities, attending events and developing professional networking skills.
What our graduates say:
Each day as a Commercial Management Graduate offers variety, from the very first day you are given real responsibility to add value to the business, contributing as part of a diversely skilled team to a range of exciting innovation led projects.
Most mornings begin catching up with colleagues and responding to emails before the day begins. From managing the customer interface, analysing complex contractual terms, advising internal stakeholders on commercial matters to negotiating business positions with strategic partners and interpreting customer requirements with our engineers; each day offers a different challenge, with each opportunity driving my development.
I have enjoyed the opportunity to work in a company at the peak of innovation within the industry. Graduates are given a real opportunity to initiate ideas, drive change and make a difference. During my first 12 months, I had the opportunity to initiate my own process improvement project which has left a lasting impression on the business.
This would not have been possible without the support and mentoring of highly experienced and knowledgeable colleagues who helped make my transition from University into the workplace seamless, and inspire me for my future career.
What is Commercial?
Commercial owns the contractual relationship with our customers, and helps to develop customer engagement strategy, leading negotiations, and influencing innovative solutions. Every day is different from the next, be it dealing with internal governance and financial performance, or meeting customer queries, bids and demands across the globe. Commercial are the interface between the business and customer, without such arrangement no contractual commitments or changes could be implemented.
Commercial are critical to the success of any business and support multiple functions on a continuous basis.
Do you have what it takes to join the Commercial team?
From the Start…
You will commence a 2 year Contracts Management Graduate Development Programme. The programme is designed to provide a wide understanding of Commercial practices. Assigned to a business area on a rotational basis, you will support contracts and orders with business clients and some suppliers, where you will be assigned activities to help you grow your commercial acumen and key business competencies.
During the Graduate Development Programme, in addition to your main role you will complete a range of in-house and outward bounds modules designed to support your career development and progression. Topics include Presentation Skills, Effective Communication, Building a Network, Emotional Intelligence, Leadership & Influencing to Teambuilding and are intended to develop your business acumen and enhance your skills within the workplace.
To be considered for this Programme you will demonstrate a high level of energy in pursuing work objectives and a total commitment to achieving successful outcomes, as evidenced by your academic results. You will have long-term ambitions, first class communication, planning and organisational skills. Raytheon champions a High Performance Culture, therefore the ability to work collaboratively within multi-functional teams is essential.
Main Duties:
Operating in an integrated fast paced team, the Commercial function play a leading role in Contract Management activity in respect of establishing and maintaining routine and bespoke contracts of high value and complexity. Commercial staff identify and manage risk, interfaces internally and externally across key functions and contributes to business area strategies. On a day-to-day basis a Commercial graduate may be expected to:
Contribute to contract management strategies and relationship management at business area and programme level
Help develop innovative Contracting solutions in support of proposals
Negotiate and manage contracts
Identify and manage risk and opportunity
Administer due diligence and performance
Support the financial performance and compliance of contracts
Facilitate the delivery of invoicing for goods and services
Influence customer meetings and internal management reviews
Develop briefing materials for senior management reviews
Participate in business optimisation with cross-functional improvement activities
Draft and review Agreements (Non-Disclosure/Teaming/Licensing)
Raytheon Career Development:
Raytheon has a wealth of resources available to help you develop your career from the moment you join. Activities range from on-line learning modules to external training and support for taking professional qualifications relevant to your role.
Candidate Requirements:
Essential:
Minimum 2:2 undergraduate degree
120 UCAS points or equivalent (pre university qualifications)
A full CV submitted on-line on our careers website with degree grade predicted or achieved listed. Include degree studied, modules studied, work placements and work experience on the CV including dates and locations. Please ensure your application includes full name, address, email address and telephone number as successful candidates will be contacted to discuss their application and next steps. Candidates will also receive updates on their application by email.
A cover letter which explains why you have applied specifically for this role and why you would like to join our Graduate Development Programme. Please highlight any relevant skills, experience, work experience, work placements and extra-curricular activities that are relevant to your application.
Attach a scanned copy of most recent university transcript or degree certificate as applicable under "Attachments" on your on-line application.
The successful candidate will be required to complete UK SC clearance application
Desirable:
Sound understanding or experience of business operations
Proven skills in Applications (App) development or creations of IT platforms allowing sharing of information and data.
Coaching and or mentoring certifications
Standard Benefits:
25 days' holiday (increasing to 27 days) + statutory public holidays.
Contributory Pension Scheme (up to 10.5% company contribution).
6 times salary 'Life Assurance'.
Flexible Benefits scheme.
Discretionary Bonus scheme.
Enhanced family friendly policies.
37hr standard working week, with an early finish on Fridays whilst operating a 'Hybrid Working Model'*
Canteen facilities are available at Harlow & Glenrothes sites. Manchester & Gloucester offer free snacks & drinks (hot & cold).
* Our Hybrid Working Model supports flexible working arrangements on a formal or informal arrangement, considering both location and/or working hours, subject to business and customer needs. Please highlight any flexible requirements to our Recruitment team to explore the opportunities.
1e127ede32d8f816eacfb0aed73cee11